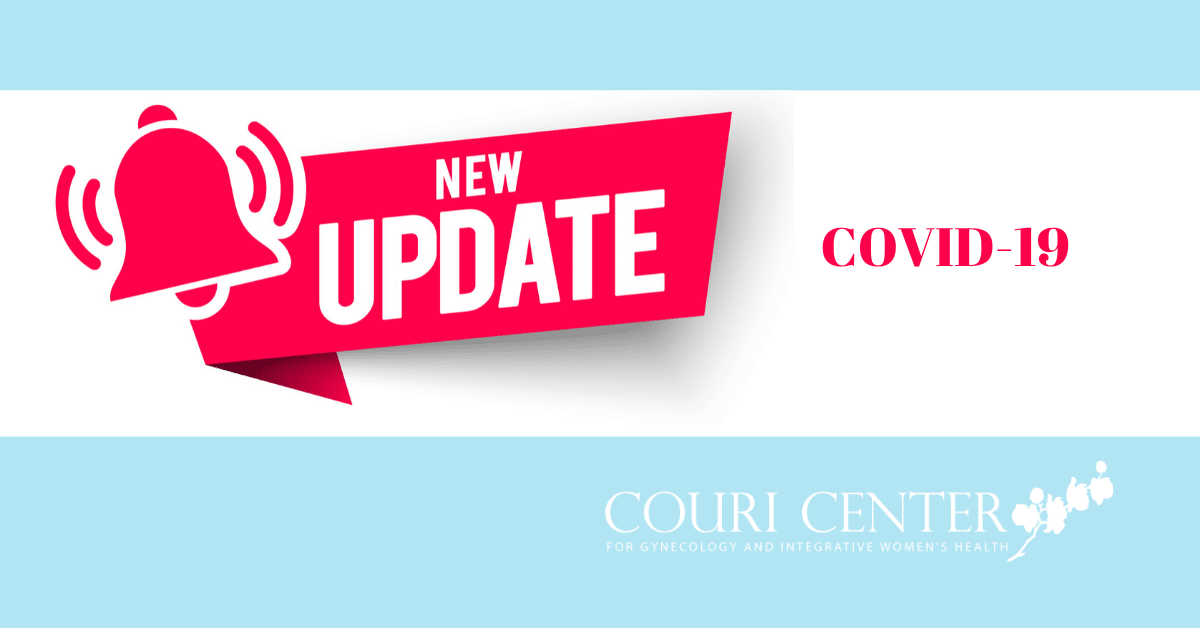 The Couri Center continues to follow very strict infection control practices.  Therefore, you will see some changes when it is time for your next appointment. These changes are meant to protect our patients and our staff.
Office Policies: 
Before your visit, you will receive a reminder TEXT/EMAIL about your appointment and to verify your current insurance, address, phone number, and email.
Upon arrival, we will then take your temperature, copy your insurance card, and give you any forms to fill out for your appointment.
If you have any symptoms of COVID-19 (fever, sore throat, cough, or any respiratory symptoms), we will reschedule your appointment out a few weeks.
Please wear a mask. They are mandatory for your appointment.
Only patients are allowed in the building, the exception being to accompany a minor.  If your spouse or significant other accompanies you to your appointment, they will be asked to wait in your car to allow ample room for patient spacing 6-feet apart.
If you have tested positive for Covid-19 or have been exposed to someone who has, you will be rescheduled following 14-days of quarantine.
Appointments will be scheduled in a manner that allows for adequate social distancing between patients. There will be fewer patients scheduled per day; therefore, your appointment may be rescheduled for a few weeks out. We appreciate your patience during this unprecedented time.
Each exam room will be completely disinfected and sanitized after each patient.
We very much look forward to seeing you again, and if you have any questions, please feel free to call our office at (309)692-6838. We want to thank you for entrusting us with your healthcare, and please know that you and your safety are our number one priority. We are grateful to be able to see your smiling faces again, even if hidden behind a mask.
Telemedicine Visits
Consult your provider right from your phone, computer, or iPad.  
New patients welcome!
Video visits allow you to stay in control of your health, from the comfort of your home. It's easy. Just schedule via phone (309)692-6838 or from our 24/7 online patient portal. When your appointment is set, you'll receive an email link for easy access to your video appointment. Visits are billable to private insurance and Medicare. Some insurances are even waiving co-pays on telemedicine video calls.  
Here are just a few examples of consultations:
General gynecologic issues
Hormone consultations
Integrative wellness consultations
Bone health consultations
Contraception/family planning
Food Sensitivity consultation
Weight loss
Heavy bleeding
Surgical consultations
Myriad cancer-risk results
Lab results
Many more!
How Can I Get Supplement Refills?
Order Directly from the Xymogen Website: Order Xymogen products directly and ship to home–including MedPax* (Bone, Bone Plus or customized). *If you are ordering a MedPax please first email Leslie.
Call us and place your order / pay over the phone.  You may pick up your order in our front lobby or we can ship it to you.  Shipping is a flat rate of $8; or FREE on orders over $100.
How Can I purchase Skincare?
Call us and place your SkinCeuticals order / pay over the phone 309-692-6838.  You may pick up your order in our front lobby or we can ship it to you.  Shipping is a flat rate of $8; or FREE on orders over $100.
SkinBetter Science orders may be picked up in our front lobby or placed directly here.