As many as 10% of cancer cases are hereditary
Knowing your personal and family history of cancer is the first step in determining if you might be at increased risk for cancer
Myriad has over 25 years of experience, and more than 1.6 million people tested and is the established leader in the field of genetic testing.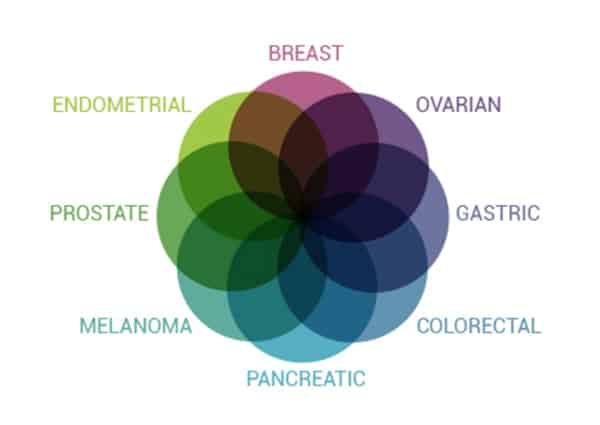 Myriad myRisk genetic testing combines your genetic information with personal and family history to generate management options to help you lower your cancer risks. It looks at multiple genes that impact inherited risks for eight critical cancers:
breast
ovarian
uterine
gastric
colorectal
pancreatic
prostate
melanoma
In families with hereditary cancer, the cancer risk is passed down through generations by inheriting altered genes, which increase the risk of developing cancer. People with hereditary cancer are more likely to have relatives with the same type or related type of cancer. They may develop more than one cancer, and their cancer often occurs at an earlier age. A simple, in-office blood test can identify gene mutations that could impact lifetime medical management.
The Couri Center offers MyRisk screening & complimentary tele-education to our patients who meet cancer-screening criteria. Tele-education allows you to speak live with a Board Certified Genetic Counselor who can answer any questions you may have about hereditary cancer. We can help you decide if you might benefit from the test.