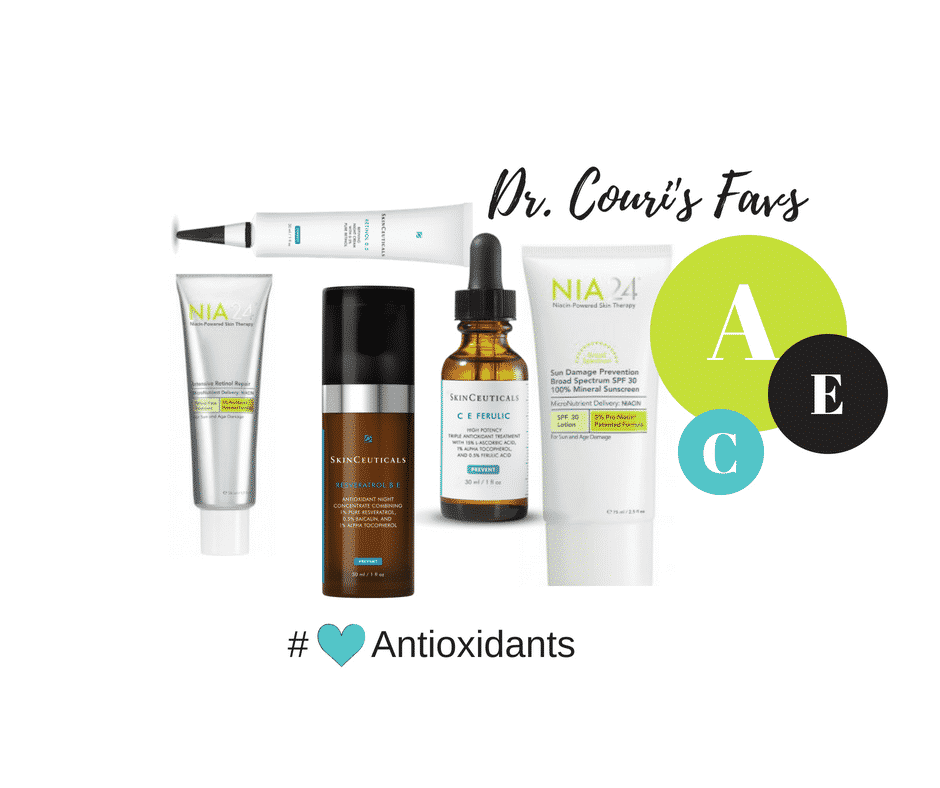 If I could recommend my favorite supplements and skincare products, I would have to say that those rich in antioxidants are my pick.   Every day, our bodies, especially our skin, which is our largest organ and our main line of defense from environmental toxins, are exposed to the harmful effects of free radicals. Free radicals are unstable molecules that damage cells and contribute to aging and disease. Antioxidants can counter free radical activity.  Some of the most powerful antioxidants include Vitamin E, Vitamin C, beta-carotene, and resveratrol.
Vitamin E: d-alpha tocopherol. A fat-soluble vitamin present in nuts, seeds, vegetables and fish oils, whole grains (esp. wheat germ), fortified cereals, and apricots. Vitamin E has been shown to help strengthen the immune system and can reduce the incidence of menopause related hot flashes. Remember that Vitamin E is a natural blood thinner, so if you are currently taking a blood thinner, consult your physician before starting Vitamin E.  I recommend 800 mg of mixed tocopherols daily.
Vitamin C: Ascorbic acid is a water-soluble vitamin present in citrus fruits and juices, green peppers, cabbage, spinach, broccoli, kale, cantaloupe, kiwi, and strawberries.  Vitamin C is critical for collagen production, as well as for the production of new cells and tissue.  We lose collagen as we age, so supplementing with Vitamin C can be an important part of our anti-aging regimen.  I recommend 2,500 mg of Vitamin C daily.
Beta-carotene is a precursor to vitamin A (retinol) and is present in liver, egg yolk, milk, butter, spinach, carrots, squash, broccoli, yams, tomato, cantaloupe, peaches, and grains. Because beta-carotene is converted to vitamin A by the body there is no set requirement, but I recommend 15,000 IU of beta-carotene daily.  Beta-carotene will be present in your high-potency multivitamin.
Taking a good quality, high-potency multivitamin as well as supplementing with the above mentioned antioxidants should be a part of your daily wellness routine.  However, supplements should never replace eating a healthy diet rich in vitamins and antioxidants.  There is absolutely no substitute for what nature intended us to get from our food, especially a diet rich in colorful vegetables and fruits.
The importance of antioxidants applies to the health of our skin as well as our entire body.  I will share with you my favorite antioxidants for the skin, products that I consider "must haves".  I will never go without these products as they have made an incredible difference in the health of my skin.
One of my absolute favorite skin care products is Vitamin C serum.  A high-potency Vitamin C serum or cream should be the first product you apply to freshly cleansed skin in the morning so that it can be absorbed immediately. Use just enough to cover the skin, as too much Vitamin C on the skin can be irritating, especially for sensitive skin. I recommend waiting five minutes to allow the Vitamin C to be absorbed by your skin before you apply any other facial product.  Once absorbed by the skin, Vitamin C offers advanced environmental protection from free radicals and improves the appearance of fine lines and wrinkles, loss of firmness, and brightens the skin's complexion.  The Vitamin C serum that I use and highly recommend is C E Ferulic from Skinceuticals (now available at the Couri Center).
Another one of my favorite antioxidants for the skin is Retinol Cream.  Retinol is a weaker version of retinoic acid, a high potency Vitamin A cream.  Retinol can reduce fine lines and wrinkles and helps fade the appearance of age spots and blemishes.  It is able to help slough off old skin cells and stimulates new cell formation.   I encourage the use of Retinol nightly as part of your skin care routine.  If you have trouble with Retinol irritating your skin, try using it 2-3 times weekly instead of every night and work up to using it nightly.  Since Retinol can cause photosensitivity to the skin, do not use Retinol if you are currently undergoing laser procedures like laser hair removal.  Also, make sure to use a good quality sunscreen every single day. My favorite sunscreen is Nia24 Sun Damage Prevention UVA/UVB.  Two of my favorite Retinol products are Skinceuticals Retinol and Nia24 Intensive Retinol Repair (all available at the Couri Center).
Lastly, another one of my favorite antioxidants for the skin is Resveratrol.  Topical Resveratrol, a potent antioxidant found in red grapes, has been shown to protect us against the harmful effects of ultraviolet radiation and free radicals. Topical Resveratrol can also enhance skin's radiance and elasticity.  The Resveratrol serum that I use every night before moisturizing is Resveratrol BE by Skinceuticals (now available at the Couri Center).
If you have any questions about which supplements are right for you, please come in and talk with our Registered Dietitian Leslie Rusch-Bayer.  If you need help personalizing your skin care regimen, come in and talk with our Licensed Esthetician Leslie Gilstrap.  We are here to help you in any way we can.
To Your Health,
Dr. Couri