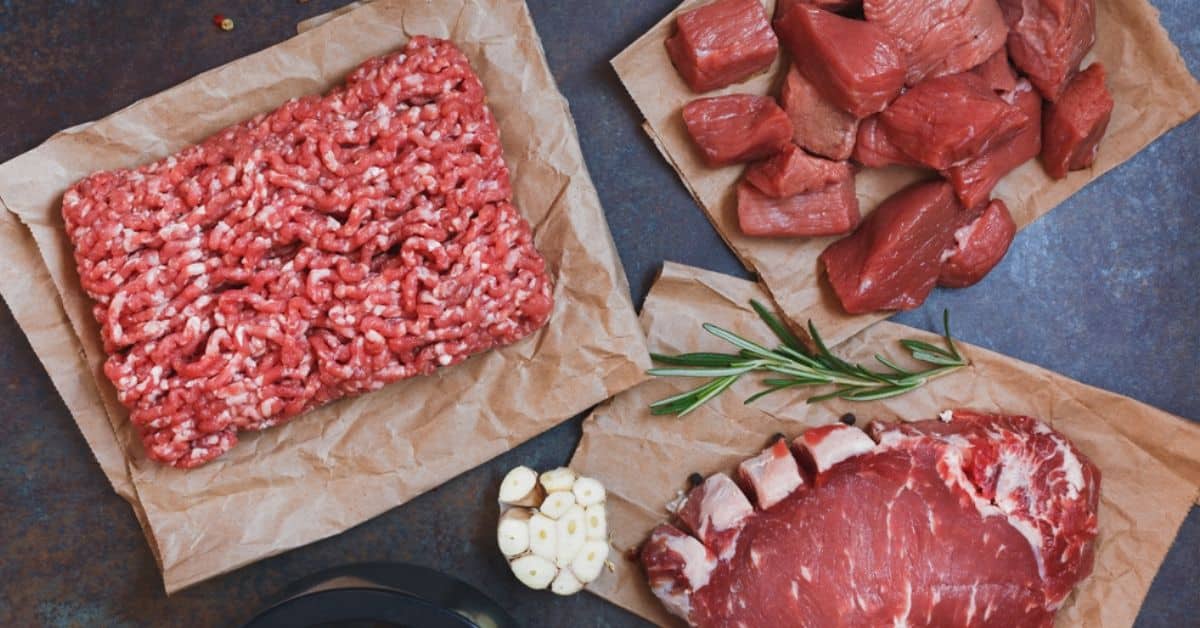 As a Registered Dietitian, I often have patients asking about different varieties of food. New foods hit the grocery store shelves every day, each one claiming to be "healthier" than the last. But are these foods so powerful that they will change health?  Ultimately, patients need to be given the proper information so they can make the best choice for their health. Let's get started.
The process of producing beef has changed a lot since the 1970s. Thanks to technology and research, how cattle are raised, and when they are slaughtered have contributed to better, more efficient, beef products. Sometimes, these advances may also provide a better product that leads to improving your health.
But which beef product is best for your health? Marketing, advocacy groups, and even research create confusion when consumers are trying to pick the best product for themselves. Let me see if I can try and help you answer this question.
Let's first discuss what is not affected by what a cow eats. If you are like me, you hate it when you are served a tough piece of steak. A juicy, tender piece of meat is usually preferred. Tenderness is not affected by what a cow consumes. The age of the cow at slaughter is what affects tenderness. Typically, the younger the cow, the more tender the meat.
Now, let's move on and discuss the benefits of grass-fed beef. Grass-fed beef has been shown to have higher levels of conjugated linoleic acid and antioxidants (CLA). Additionally, in a study published in the British Journal of Nutrition, McAfee et al. report that a diet that includes grass-fed animals may improve the intake of omega-3 polyunsaturated fatty acids (PUFA). Why are these important?  CLA has been shown to improve body composition, cholesterol, and possibly prevent cancer. Antioxidants slow the "aging"  process and omega-3 PUFA are known to decrease inflammation and the risk of heart disease. A more common and bountiful source of omega-3 PUFA is fresh-caught, cold-water salmon. If you do not eat fish, nor do you want to begin eating fish, grass-fed beef would provide you with additional omega-3 PUFA.
The disadvantages of grass-fed beef include cost, taste, and possibly a decrease in sustainability. Grass-fed beef does tend to be more expensive than grain-fed beef. This can be approached in two different directions. Because of the cost, you may choose to purchase the less expensive grain-fed beef, or you may choose to purchase grass-fed beef, but consume smaller portions or less frequently. Because grass-fed beef consumes grass, it has larger amounts of vitamin E, which tends to have a different taste than grain-fed beef. You must try grass-fed beef to decide if you like it. If you do not like the taste of the product, there is no resolution other than purchasing a different product.
The effects grass-fed beef has on sustainability is a very touchy and political question. There really is no right or wrong answer. Each person will have to decide what they believe. Some say grain-fed beef consume less water and feed throughout a shortened lifespan and produce more edible beef per cow, while others believe cattle should eat what mother nature intended them to eat: grass.  No one can answer that question but you.
Now to grain-fed beef. Cattle farmers and researchers report that grain-fed beef has higher amounts of good, heart-healthy fat called monounsaturated fat (MUFA). MUFA has shown to raise good cholesterol, improve the taste of beef, and reduce the risk of type 2 diabetes. Many research articles report that increasing CLA through grass-fed animals had no effect on cholesterol and other laboratory markers. This article concludes that spending the money on grass-fed products may not be providing any improvement in overall health. Grain-fed beef tends to be less expensive, and typically, people prefer the taste of grain-fed over grass-fed beef.
Before you decide on which type of beef your should consume, I encourage everyone to visit the World Research Cancer Fund website and read about the proper recommendations for how much red meat, no matter grass-fed or grain-fed, should be consumed. No matter the quality or type of red meat, the World Research Cancer Fund recommends no more than three servings per week. Processed meats should only be consumed on a rare occasion, if any.
Let's ask some important questions to help guide you toward the right decision of which beef product is best for you:
Do you currently have any diseases, risk of disease or laboratory markers that are outside normal limits?
Do you dislike cold-water, fatty fish?
Are you overweight?
Do you already limit your intake of beef?
Does your budget allow you to spend extra money on more expensive beef?
Do you like the taste of grass-fed beef?
If you answered "yes" to at least three of these questions, you might find that choosing grass-fed beef may be a beneficial option for you. If you answered no to the majority of these questions, grain-fed or conventional beef may be the best choice for you.
Remember, there is no one choice that is right for everyone. Your choice of beef will not make any kind of substantial impact, good or bad, on your health, if consumed within the recommendations of the World Research Cancer Fund, however, the choice of beef you choose to consume may add to the benefit of the other healthy foods you consume that overall may lead to health improvement.
Before you can truly decide which type of beef to purchase, it may be of benefit to be updated on your current health. The Couri Center has created a one-of-a-kind lab panel that provides an overall, total-body look at one's health. This lab panel is part of our TLC Integrative Consult. If you would like more information regarding our TLC program or would like to schedule a consultation to discuss your personalized nutritional options contact us.
Leslie Rusch-Bayer, RD, LDN, CPT