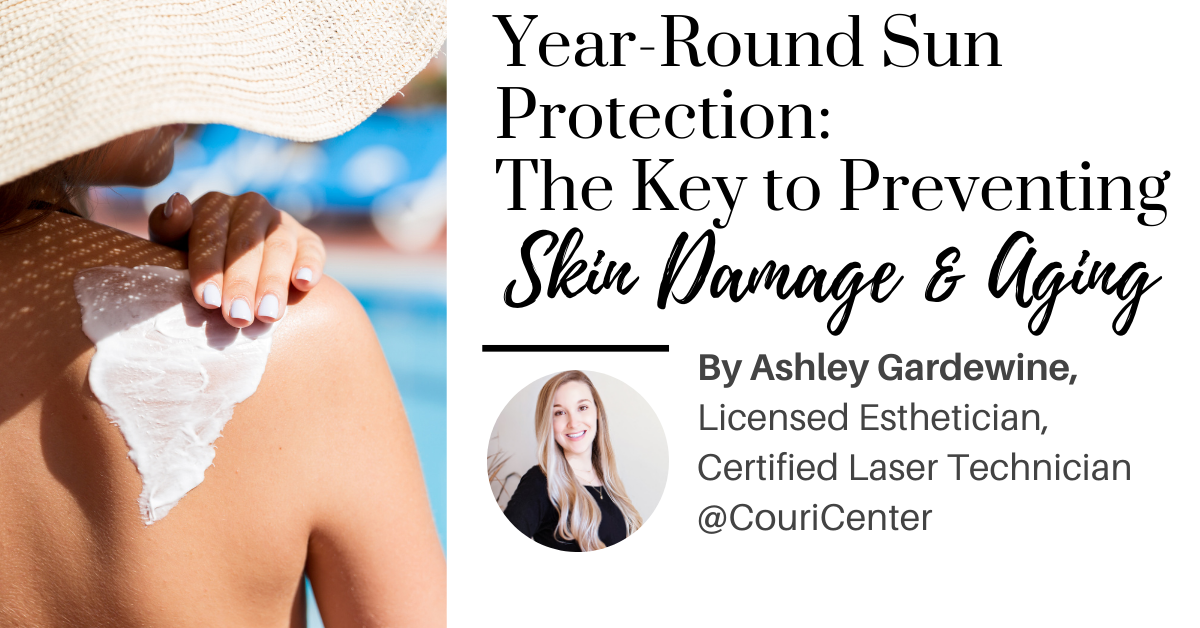 May: Skin Cancer Awareness Month
May is Skin Cancer Awareness Month. More people are diagnosed with skin cancer each year in the U.S. than all other cancers combined.  With that being said, 1 in 5 Americans will be diagnosed with skin cancer in their lifetime.  The good news?  I have a few tips to share with you today so that you can protect yourself from harmful UV rays.
Why Is Sunscreen So Important?
Did you know that an estimated 90% of skin aging is caused by the sun? That means you can have the best of the best anti-aging skincare routine that includes perfectly formulated cleansers, retinoids, exfoliants, serums, eye creams, and moisturizers. These are all vitally important for younger, healthy-looking skin BUT none of these products replaces the need for daily sun protection. The benefits these products provide just won't work the way you want without the sun protection step.  I can't stress this enough: Wear your sunscreen daily, or your skin will suffer the consequences!
Sunscreen: 365 Days a Year
Sunscreen use is needed 365 days a year because the sun isn't just damaging your skin when the sky is clear. The UV light emitted by the sun steadily and silently hammers away at skin year-round whether it's cloudy or rainy. Leaving your skin unprotected against this assault results in all the signs of aging you want to avoid—and you won't feel the damage taking place!
Protecting Your Skin: It Is Never Too Late
What if you already have wrinkles and dark spots from years of unprotected sun exposure? Research has shown that it's never too late to start protecting your skin. In fact, people with sun-damaged skin (and that includes all of us) who started using a broad-spectrum sunscreen later in life saw a noticeable reduction in every visible sign of aging.
No matter your age, daily sunscreen use is the foundation of a brilliant anti-aging skincare routine.
Sun Safety Tips
Seek the shade

, especially between 10 am and 4 pm.

Don't get sunburned.
Avoid tanning

, and never use UV tanning beds.

Cover up

with clothing, including a broad-brimmed hat and UV-blocking sunglasses.

Use a broad-spectrum (UVA/UVB) sunscreen

with an SPF of 15 or higher every day. For extended outdoor activity, use a water-resistant, broad-spectrum (UVA/UVB) sunscreen with an SPF of 30 or higher.  Shop our favorite

SkinBetter Science sunscreens here

. 

Apply 1 ounce (2 tablespoons) of sunscreen

to your entire body 30 minutes before going outside. Reapply every two hours or after swimming or excessive sweating. 

Keep newborns out of the sun

. Apply sunscreen to children over the age of six months.

Examine your skin

head-to-toe every month.

See a dermatologist

at least once a year for a professional skin exam.
To healthy skin,
By Ashley Gardewine, Licensed Esthetician
@couricenter
DISCLAIMER: The information provided on this website is intended for general informational purposes only and is not intended to be a substitute for professional medical advice, diagnosis, or treatment. The information provided is current as of the date of publication or last review, but medical knowledge is constantly evolving, and the information may become outdated over time
References: