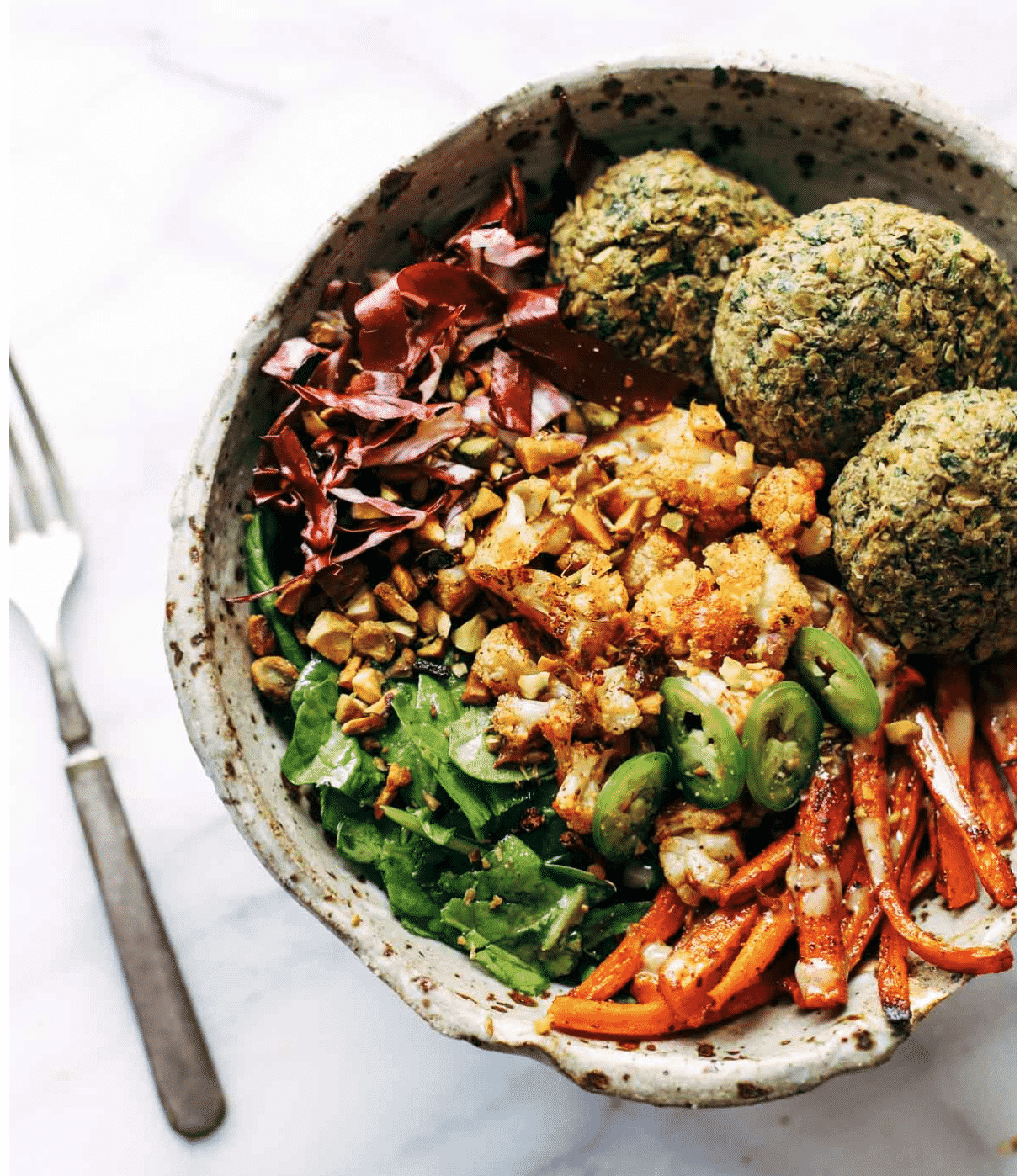 INGREDIENTS
For the Roasted Veggies
5-7 carrots
1 head cauliflower
2 tablespoons olive oil
4 teaspoons cumin
salt and pepper to taste
For the Bliss Bowls
8-10 pieces of Simple 5 Ingredient Baked Falafel
2-3 cups spinach
1-2 cups chopped red cabbage
1 jalapeño, cut into slices
¼ cup crushed pistachios
tahini, lemon juice, honey, and/or olive oil for drizzling
Simple Baked Falafel
2 cups cooked lentils
1 huge handful (a cup or so) fresh cilantro leaves and stems
1 huge handful (a cup or so) fresh parsley leaves and stems
half a jalapeño (if you like spicy – leave ribs and seeds!)
1½ tablespoons olive oil
1-2 cloves garlic
a squeeze of lemon juice
1 teaspoon salt
1-2 tablespoons all purpose flour (sub a gluten free flour if needed) 
INSTRUCTIONS 
Falafel: Make Simple Baked Falafel in advance so you have it all ready to go! It takes about 30 minutes.
Preheat the oven to 350 degrees. Pulse all ingredients, except flour, in a food processor until combined. The mixture should form semi-dry crumbles that stick together when you press them.
Stir in the flour – just one tablespoon at a time, until it's just dry enough to handle. Form into 9 patties and bake for 18 minutes. Remove from oven and use in salads, sandwiches, bowls, etc. Refrigerate for a few days or freeze.
Roasted Veggies: Preheat the oven to 400 degrees. Peel the carrots and cut into thin strips and place on a roasting pan (a jelly roll pan works well because then the veggies don't slide off). Chop the cauliflower into small florets and place on a separate roasting pan. Drizzle each pan with oil and sprinkle each pan with cumin, salt, and pepper. Toss around on the pan to combine. Bake for 20-30 minutes – stir occasionally, but not too often otherwise you'll disrupt the browning process. To get more browning, bake for an additional 10-15 minutes. When the veggies are done, remove from oven and set aside to cool. 
Bliss Bowl Assembly: Assemble spinach, red cabbage, falafel, carrots, and roasted cauliflower in the bowls. Top with jalapeño and pistachios. Drizzle with tahini, lemon juice, honey, olive oil, and salt and pepper as needed.