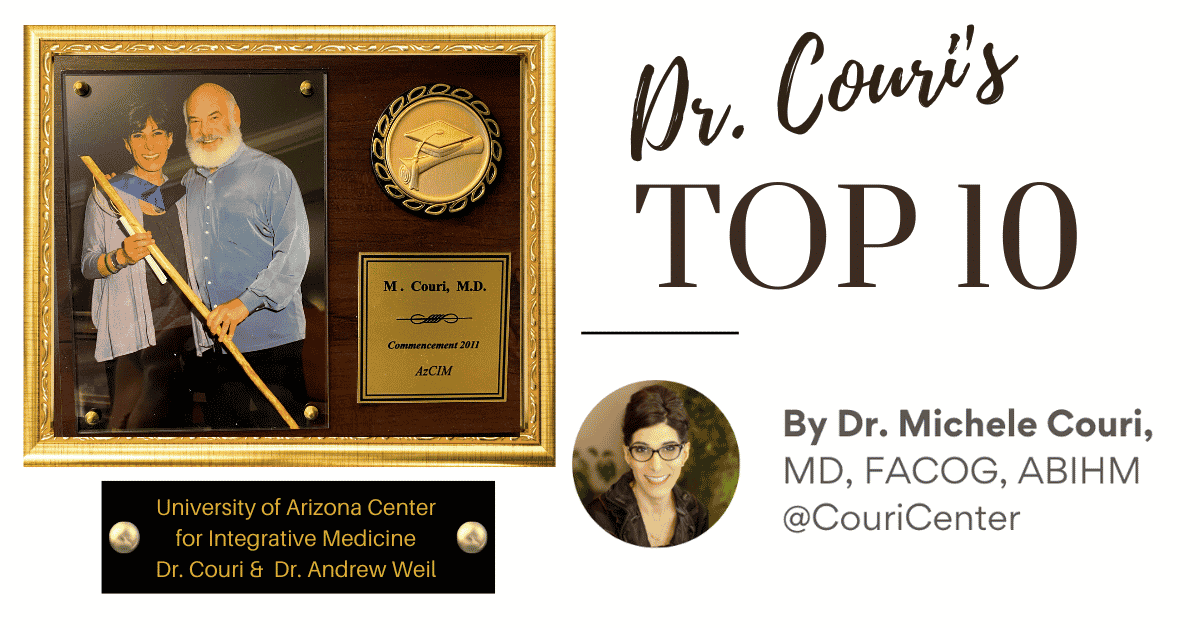 10 Facts about Integrative Medicine By Dr. Michele Couri
Integrative Medicine is a discipline that blends conventional Western medicine with scientifically based complementary therapies to encompass all factors that affect health, including but not limited to:  mind, body, lifestyle, social interactions, nutrition, stress, and spiritual connections.

Integrative Medicine does not shun Western medicine but rather marries it with the most time-honored, effective, and evidence-based therapies from ancient healing cultures.  

Integrative Medicine focuses on the patient's unique conditions, needs, and circumstances, thereby providing the utmost in personalized medicine.

Integrative medicine often provides therapies and philosophies intended to enhance wellness and a sense of wellbeing. 

A few examples of Integrative medical therapies include mind-body practice or mindfulness, acupuncture, massage therapy, music or art therapy, use of botanicals and herbs, and the healing power of food and spices, just to name a few.

There is growing popularity of Integrative Medicine nationwide, with statistics showing that roughly 40-60% of cancer patients in Western industrialized countries utilize integrative medicine alongside their traditional oncology therapies.  In addition,

the American Academy of Pediatrics recognizes the value of Integrative Medicine as well as the increasing use of complementary and integrative therapies in children. The American Academy of Pediatrics is committed to providing reliable information and high-quality clinical resources in Integrative Medicine to support pediatricians.

A South Korean study in 2018 compared western-only with integrative medicine in managing patients with acute strokes.   The results were that although patients who received integrative medicine incurred slightly higher costs than those who underwent only western medicine, the patients who received Integrative Medicine had lower mortality rates at both three and 12 months after discharge.  In addition, due to better outcomes, those patients who received IM may have incurred fewer costs after discharge due to diminished need for re-hospitalization.   Similarly, another study in Texas in 2018 showed that patients who received Integrative Medicine were more likely to have reduced pain thereby reducing their hospitalization costs by 4%.

Integrative Medicine requires a vast knowledge of many disciples of complementary and alternative medicine, and formal education in Integrative Medicine is paramount to ensure not only patient safety but also patient satisfaction and efficacy of treatment(s).

To facilitate training in Integrative Medicine for healthcare professionals, many academic institutions have become affiliated with the

Academic Consortium for Integrative Medicine and Health (

ACIMH), a prestigious organization of more than 65 medical schools that offer integrative medicine research, education, and clinical initiatives (eg, Harvard, Yale, Duke, Stanford).

  

The Academy of Integrative Health and Medicine

and the

Andrew Weil Center for Integrative Medicine

are committed to healthcare professionals acquiring competency in Integrative Medicine by offering postgraduate medical education as well as an internationally recognized Fellowship in Integrative Medicine.
It has been an honor and a privilege to provide Integrative Medicine to our patients for the last eleven years.  Completing a Fellowship in Integrative Medicine in 2011 at the University of Arizona Center for Integrative Medicine under the world-renowned Dr. Andrew Weil has been one of the most fulfilling aspects of my career.  I am humbled to work alongside our Couri Center team of professionals, many of whom have also completed formal training programs in Integrative and Functional Medicine.  Witnessing the power of Integrative Medicine, as it has touched the lives of so many of our patients, has continued to inspire us to never stop learning and to embrace the sacred relationships we share with those who trust us as their partners in health.  To learn more about our Integrative Medicine Wellness Programs, schedule a consultation or call 309-692-6838.  New patients are welcome.
To your health,
Dr. Couri
Sources Used:
Steinhorn DM, Din J, Johnson A.  Healing, Spirituality, and Integrative Medicine.  Ann Palliat Med. 2017 Jul;6(3):237-247.
Cornelis FH, Najdawi M, Ammar MB, Nouri-Neuville M, Lombart B, Lotz JP, Cadranel J, Barral M.  Integrative Medicine in Interventional Oncology: A Virtuous Alliance.  Medicina (Kaunas). 2020 Jan 17;56(1):35.
Schuerger N, Klein E, Hapfelmeier A, Kiechle M, Brambs C, Paepke D.  Evaluating the Demand for Integrative Medicine Practices in Breast and Gynecological Cancer Patients
Breast Care (Basel). 2019 Mar;14(1):35-40. 
Richard Gannotta, Shaista Malik, Alvin Y Chan, Kamran Urgun, Frank Hsu, and Sumeet Vadera.  Integrative Medicine as a Vital Component of Patient Care. Cureus.  2018 Aug; 10(8): e3098.
McClafferty, et al.  Pediatric Integrative Medicine.  Pediatrics. 2017 Sep;140(3):e20171961.