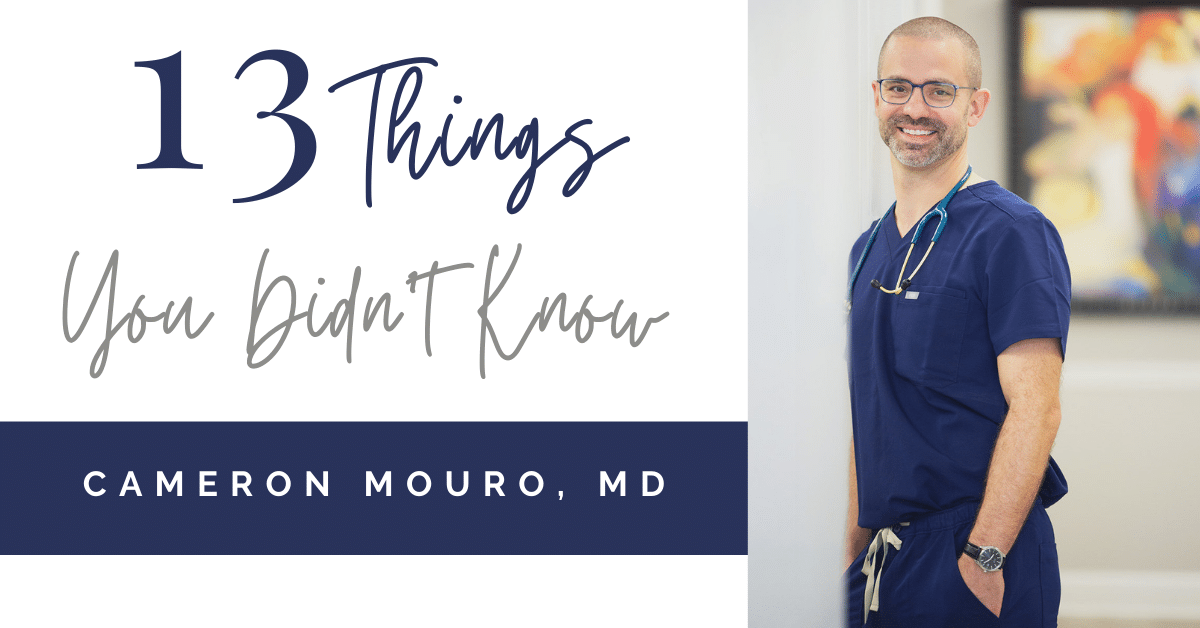 Meet Dr. Mouro, the Couri Center's newest team member, now accepting new patients.  Dr. Cameron Mouro, MD, FACOG, is a board-certified obstetrician/gynecologist and a fellow of the American College of Obstetricians. He completed a residency in Obstetrics and Gynecology at the University of North Carolina in Chapel Hill. He received his Doctor of Medicine degree and a Bachelor of Science degree at the University of Michigan in Ann Arbor, Michigan. Dr. Mouro is honored to be the IHA Patient Experience Award recipient for 2016, 2017, 2018, and 2019.
With over 13 years in medical practice, Dr. Mouro is proud to be a member of the Couri Center and excited to have made Peoria his home. Outside of work, he enjoys spending time with his large family – 10 children in all and hunting, fishing, swimming, and listening to music.
What inspired you to pursue medicine/gynecology?
The joy I experienced in teaching and helping others, combined with a love for science, drove me to pursue a career in medicine. During medical school, I was fascinated by surgery, specifically that many medical problems could be safely corrected and even healed through surgical procedures. When I decided I wanted to be a surgeon, my wife and I were having our first child. What an amazing experience! I was so inspired by the hugely positive impact the doctor had on my wife. I wanted to be that same compassionate and encouraging physician. A career in obstetrics and gynecology has best allowed me to do so while also pursuing my love of surgery.
What are you most passionate about in women's health?
Improving my patients' lives and well-being by coming alongside them, educating them, and treating the complex problems they face.
What is one word you would use to describe yourself?
Dedicated
What would a "perfect" day look like for you?
Spending the day with my family enjoying the outdoors, music, and good food.
If you really knew me, you'd know…
My faith in God is very important to me.
What are you most proud of?  
My wife's accomplishments. She's an amazing woman.
What was your first job?
I worked as a locker room attendant at our local high school pool during open swim hours. It was a great first job, especially because we lived only a block away from the high school and since I was not driving yet, I could walk to work.
What do you like to do to unwind?
Listen to music. I like a variety – jazz, rock, classical, and bluegrass.
Add a good craft beer, and I'm all set!
What's the most important lesson you've learned? 
Be flexible and interruptible.
What is your go-to work-out?
Definitely lap swimming. I love the water and was a competitive swimmer during my school years.
Do you like to cook?  What is your favorite recipe?
I like to cook but don't do it very often because my wife is so good at it and enjoys it much more than I do. When the baton is passed to me, I prefer to grill. I take pride in making the perfect venison burger. 🙂
Who are your favorite writers?
When I have time to read, I enjoy non-fiction and recently read The Right Stuff. What a great book! Tom Wolfe's writing style was like fine wine compared to other, non-fiction I've read. As a result, I plan to read other works by him.
What message would you like to share with your patients? 
As your physician, I will take the time to both listen to you and explain things to you. My goal is for you to feel acknowledged, respected, informed, and reassured.
Dr. Mouro is now accepting patients and looks forward to meeting you.  To schedule, call 309-692-6838 or click below.