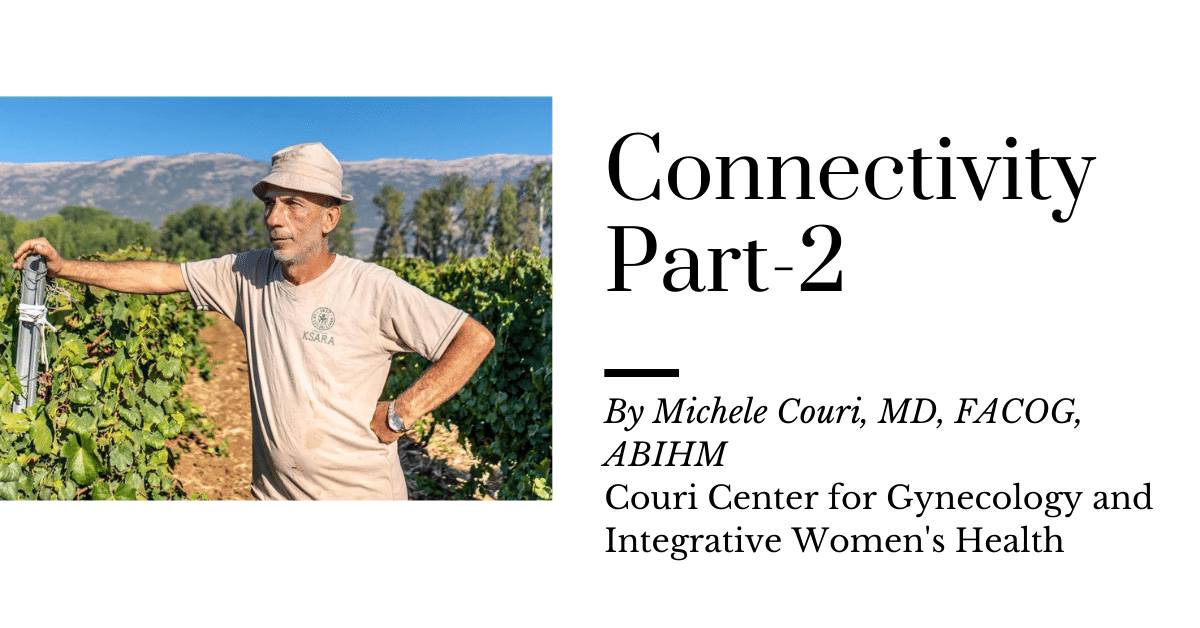 Last month, I wrote about the power of human connectivity — how we as humans can have a substantial impact on the health and wellbeing of others by honoring each other's life's stories and by recognizing that wellness encompasses much more than simply the lack of disease. I started that article off with the following quote, "When Native American medicine men talk to the sick, they usually ask three questions: When was the last time you sang? When was the last time you danced? When was the last time you told your story?" 
A social media post that I ran across the other day fittingly illustrated this concept in my mind and inspired me to write this follow-up piece. The post featured a Lebanese man named Esber Mouawad, whose mere photo invited me to learn his story.  
Being of Lebanese descent, I was immediately intrigued with the photo of Esber proudly standing in a vineyard with the tree-lined mountains of Lebanon rising up to kiss the Mediterranean-blue sky above. Two years ago, I had the distinct pleasure of visiting Lebanon for the first time to witness firsthand the indescribable beauty of its land and its people who, above all, have endured centuries of hardship but continue to persevere in their unwavering faith, their love of family, and their desire to connect their ancestral wisdom with the generations to come. To be connected to each other through the stories of those who came before us nourishes our ability to learn and propels the human intellect for continual expansion.
In the beautiful Bekaa Valley in Lebanon lies a winery called Chateau Ksara. The estate dates back to 1857 when this fertile land was acquired by the Jesuit Fathers, and they perpetuated the tradition of winemaking, carrying on a tradition in this lush region that most likely started with the Phoenicians who ruled this region since 3,000 BC. During my travels to Lebanon, I visited this winery and immediately felt connected to its powerful history. Esber Mouawad has worked for Chateau Ksara for 26 years, tending to the many chores of the vineyards, from pruning to harvesting. He shares his years of experience with all the new employees and trains the next generation of workers in the art of lovingly tending to a land that for thousands of years has offered up its bountiful rewards.   
I must speculate that Esber toils not for fortune or fame, but rather his reward comes in knowing that he plays a critical role in the production of approximately 3 million bottles of wine annually that are exported to over 40 countries. For 26 years, the fruits of Esber's labor have graced the tables and enhanced life's celebrations for people throughout the world. Regardless of the color of our skin, the religion we practice, or the political views we align with, Esber has connected us in laughter and in love, in celebrating new life and in commemorating a life well-lived. He has connected us in new beginnings and old friendships. His story so humbly conveys my wish for you all — that through whatever life throws your way, you never forget to sing or to dance and to surround yourself with people who love to hear your story. Cheers, or as it is said in Lebanon, "Keesik."
To Your Health,
Dr. Couri
Photo Credit: Chateau Ksara