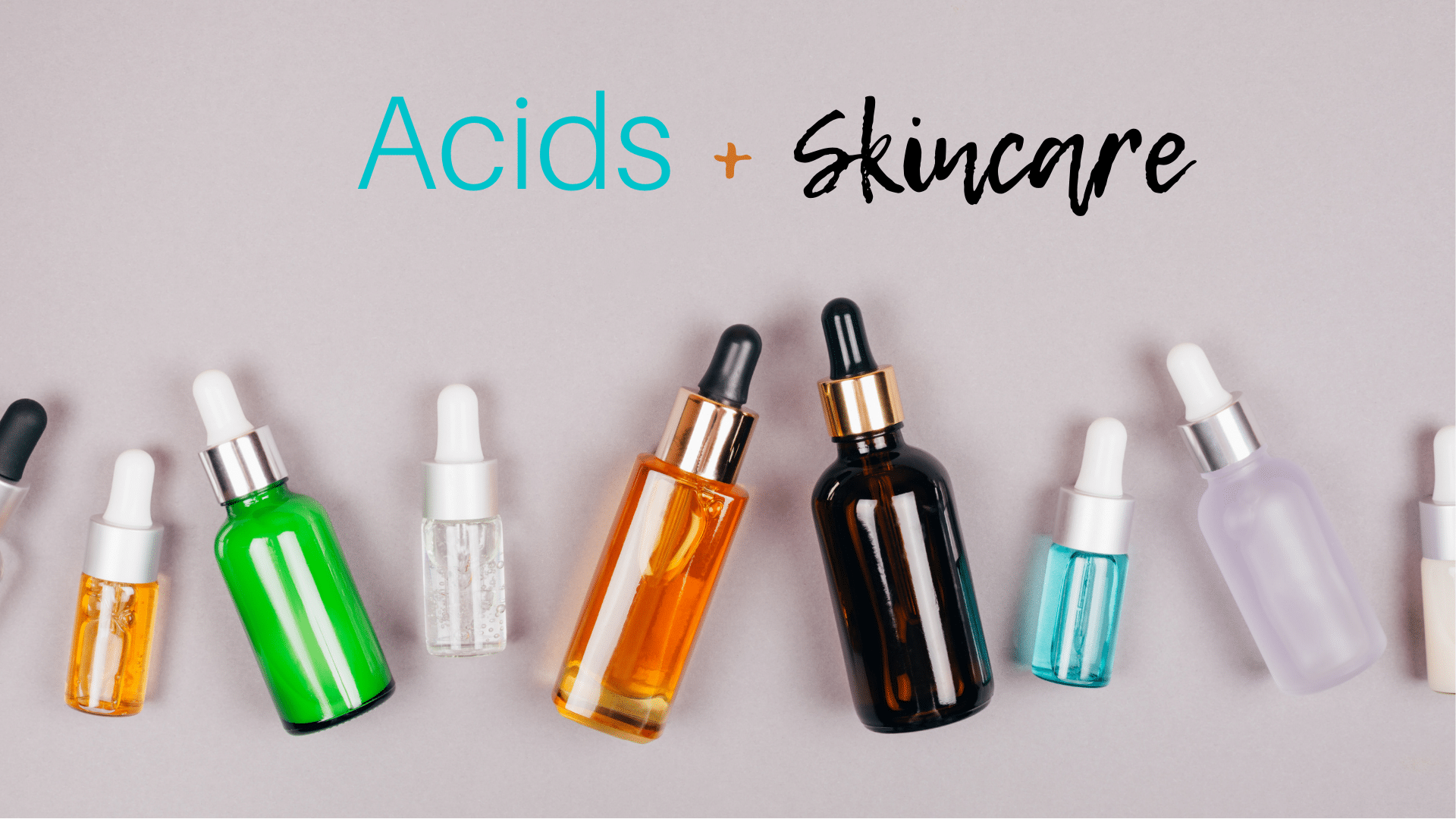 The idea of using acids in your skincare regimen sounds scary. For some, you might envision bubbling vats of chemicals and for beauty-gurus, it's a must-have ingredient found in everything from serums, toners and creams. Acids can provide a plethora of benefits to your skin. By adding them into your skincare regimen they can truly transform your skin no matter your skin type, age, or skin concerns.  
I will be going over some of my personal favorite acids in skincare. I will explain what they are, how they work, who they are best for, and what products I have found to deliver the best results. 
Alpha Hydroxy Acids 
Alpha Hydroxy Acids (AHA's) are naturally occurring compounds found in food that have exfoliating properties for the skin. They work by "un-gluing" dead skin. They have small molecules so they are able to penetrate deep into the layers of the skin. 
Glycolic Acid – sugar cane
Lactic Acid – sour milk
Citric Acid – citrus fruits
Malic Acid – apples
Tartaric – fermented grapes
Mandelic – bitter almonds
AHAs are suitable for all skin types, but they are better for normal to dry skin. 
You'll find AHAs in several of SkinBetter Science products, including their award-winning AlphaRet Overnight Cream, AlphaRet Peel Pads, Oxygen Infusion Wash, & AlphaRet Clearing Serum. 
Beta Hydroxy Acid 
Beta Hydroxy Acid (BHA) is a naturally occurring compound and better known as salicylic acid. This acid is derived from the bark of the willow tree. Salicylic acid is typically found in acne products and even used to burn off warts in high concentrations. 
All skin types can benefit from BHA, but it's best for normal to oily or combination skin that has blemishes, bumps, clogged pores, overly sensitive skin, or post-acne marks.  You'll find salicylic acid in several SkinBetter Science products, including their best-sellers AlphaRet Clearing Serum, AlphaRet Peel Pads, & Oxygen Infusion Wash. 
Retinoic Acid
Retinoic acid is what the gold standard anti-aging ingredient retinol is converted to when applied to skin. It is a vitamin A derivative that has been shown to help clear acne, reduce scarring and discoloration and improve the appearance of signs of aging. Retinoids work by accelerating the skin's natural exfoliation process in order to shed old skin cells so they can be replaced by new ones.
Retinoic acid is great for all skin types including those struggling with signs of aging and blemish prone skin.  You'll find retinoic acid in SkinBetter Science products, including AlphaRet Overnight Cream, AlphaRet Clearing Serum, & my favorite, AlphaRet Peel Pads. 
Ascorbic Acid 
Ascorbic acid is another name for pure vitamin C, an ingredient that occurs naturally in our skin and in many foods. Ascorbic acid is a powerful antioxidant that can help to improve your skin's appearance and protect against future signs of aging caused by environmental stressors.
All skin types will benefit from antioxidants since our skin is constantly exposed to sources of oxidative stress, including the sun's UV rays, air pollution, and cigarette smoke, which can have a number of adverse effects on the look and feel of skin. You'll find ascorbic acid in SkinBetter Science products, including award-winning AltoDefense Serum, AlphaRet Overnight Cream, EvenTone Correcting Serum, & Interfuse Lines.
There's certainly no shortage of anti-aging skincare products to choose from, but this can make it a challenge to find the right product for your needs. Also, not every anti-aging product is going to have the dramatic results you're looking for, so many people end up trying product after product without seeing an improvement in their skin's appearance. To help you choose an effective anti-aging product that can deliver the results you want, look for these four tried and true ingredients described above for a radiant, youthful-looking complexion.
Please note: this does not replace having a thorough skin consultation by a professional.  I am currently accepting new patients and offer free consultations. You can reach me M-F 8-4:30 at 309.692.6838.
Happy shopping, Ashley Gardewine, LE