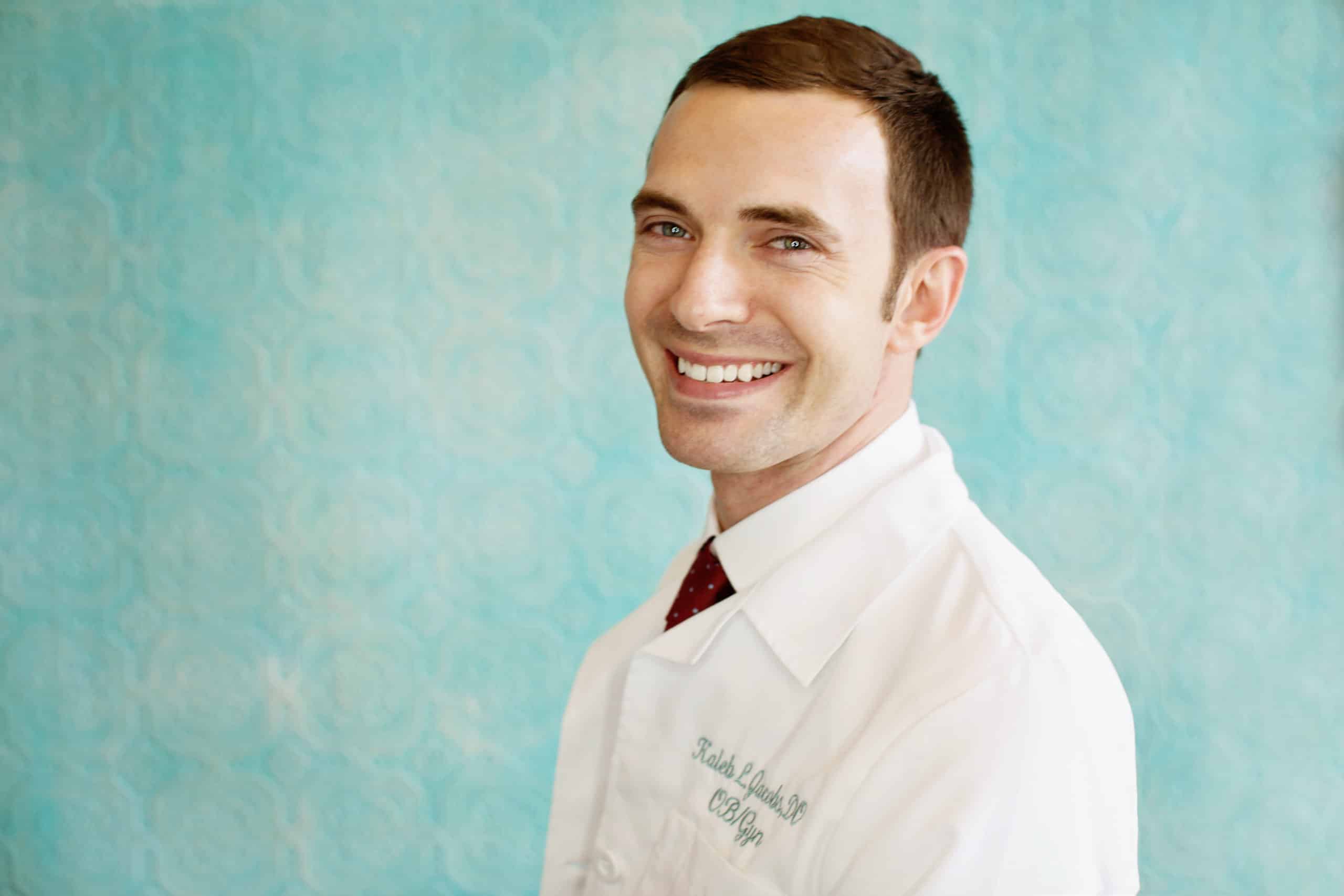 The Couri Center is pleased to announce the addition of Dr. Kaleb L. Jacobs to our practice. Like Dr. Couri, his practice will be limited to gynecology.
Dr. Jacobs completed his residency in Obstetrics and Gynecology at OSF Saint Francis Medical Center in Peoria. He received his Doctorate of Osteopathic Medicine from the Arizona College of Osteopathic Medicine at Midwestern University.
Dr. Jacobs's interest in healthcare began while he was an undergraduate student at Bradley University when he worked at the American Red Cross. After graduating with a Bachelors of Science in Medical Technology, he worked in the clinical lab at Northwestern Memorial Hospital in Chicago. After spending three years at Northwestern, he returned to medical school to pursue his medical degree.
As a resident physician, Dr. Jacobs received the Resident Award from the Society for Academic Specialists in General Obstetrics and Gynecology and he was recognized for his commitment to patients when he was nominated for OSF Saint Francis' Dr. Mary Draeger Schultz Patient Safety Award. Dr. Jacobs also served as the Obstetrics and Gynecology Department's representative on the Resident Council and served as the Administrative Chief Resident his final year of residency. He is an active member of the American College of Obstetricians & Gynecologists and has presented research at its annual and regional conferences.
Excerpts from a recent interview with Dr. Jacobs:
What inspired you to pursue medicine/gynecology?
After my first medical school rotation in obstetrics and gynecology, I knew that gynecology was my calling.   Compassionate for my patient's needs and concerns, I listen, provide solutions and educate to empower patients to feel their best.
It's very rewarding to connect with patients and impact their lives, whether a routine office visit or a complex surgery, gynecology is beyond fulfilling. Gynecology is a unique specialty, and I'm proud to have the opportunity to serve our patients.
What are you most passionate about in women's health?
I am passionate about patient education. In gynecology, many conditions have several possible causes and with that exist many treatment options. Every patient is unique, so we work together to find the best treatment option available. I am especially interested in providing solutions for women with abnormal uterine bleeding, contraception, menopause, as well as the many changes occurring to her body before, during and after menopause.
What is one word you would use to describe yourself?
Determined. I am a problem solver at heart, so I approach patient care determined to provide the best possible solution for my patients. Determined to listen with compassion. Determined to educate and make a difference.
What would a "perfect" day look like for you?
My perfect day would start with me waking up early when the sun is just starting to warm up and the entire neighborhood seems still. I would sit and drink my coffee outside on the patio. For breakfast, I would have frittata or huevos rancheros. During the day, I would either take the dogs for a walk, gather peppers from our container garden, or swim in the pool (which I wish I had). Essentially a day filled with Spanish or Mexican food and being outside would suit me just fine!
What do you do to keep fit?
I try to eat healthy and stay active. For dinner we try to cook at home and use fresh produce.   Brown rice, roasted asparagus, baked fish, and oatmeal often make a weekly appearance. Don't be fooled however, I have a sweet tooth and dark chocolate is always in season! Probably most importantly, I take every opportunity to be outside, whether it is working in the yard, walking the dogs, or biking up the Rock Island Trail.
What message would you like to share with your patients?
I look forward to meeting you and providing the outstanding patient care you have come to expect from the Couri Center!
Dr. Jacobs is accepting patients starting August 2017!  Schedule your visit today:  (309)692-6838 or visit our patient portal.