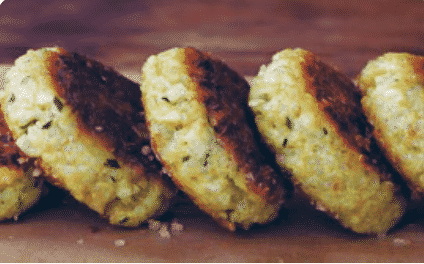 Super Natural Every Day: Well-loved Recipes from My Natural Foods Kitchen by Heidi Swason.
Ingredients:
2 1/2 C cooked quinoa or barley mix, at room temperature
4 large eggs, beaten
1/2 t fine-grain sea salt
1/2 t season salt
1/3 C finely chopped fresh chives
1/2 C chopped cilantro
1 yellow or white onion finely chopped
1/3 C freshly grated Parmesan or Gruyere Cheese
3 cloves garlic, finely chopped
1 C whole grain bread crumbs, more if needed
Water, if needed
1 T extra-virgin olive oil
Combine the quinoa, eggs, and salt in a medium bowl. Stir in the chives, cilantro, onion, cheese, and garlic. Add the bread crumbs, stir, and let sit for a few minutes so the crumbs can absorb some of the moisture. At this point, you should have a mixture you can easily form into 12 1-inch/2.5 cm thick patties. I err on the very moist side because it makes for a not-overly-dry-patty, but you can add more bread crumbs, a bit at a time, to firm up the mixture, if need be. Conversely, a bit more beaten egg or water can be used to moisten the mixture.
Heat the oil in a large, heavy skillet over medium-low heat, add 6 patties, allowing room between each, cover, and cook for 7-10 minutes until the bottoms are deeply browned. Turn up the heat if there is no browning after 10 minutes and continue to cook until the patties are browned. Carefully flip the patties with a spatula and cook the second sides for 7 minutes, or until golden brown. Remove from skillet and cool on a wire rack while you cook the remaining patties. The mixture also keeps nicely in the refrigerator for a few days; you can cook patties to order, if preferred.