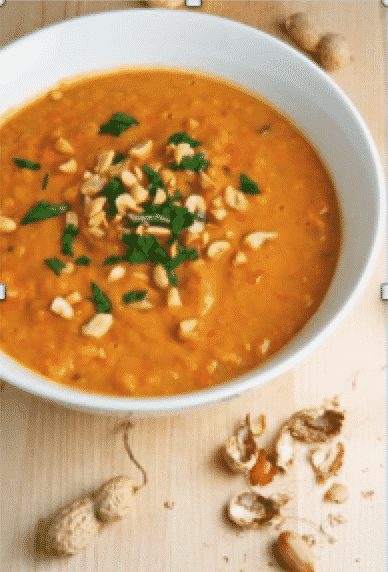 Servings: 4
Ingredients
2 sweet potatoes (cleaned and cut in half lengthwise)
4 teaspoons olive oil
1 tablespoon canola oil
1 onion (chopped)
1 carrot (chopped)
2 stalks celery (chopped)
1 red pepper (chopped)
1 poblano pepper (chopped)
1 jalapeno pepper (chopped)
2 cloves garlic (chopped)
3 cups chicken broth or vegetable broth
1/2 cup peanut (or almond/cashew) butter
Salt and pepper to taste
1 handful peanuts (or almond/cashew) (roasted and chopped)
Cilantro (chopped)
Directions
Brush the skins of the potatoes with the olive oil and set cut side down on a baking tray.
Roast in a preheated 400 F oven until tender, about 40-60 minutes.
Heat the canola oil in a pan.
Add the onions, carrots, celery and peppers and sauté until tender, about 10-15 minutes.
Add the garlic and sauté until fragrant, about a minute.
Scoop the flesh from the sweet potatoes skins and add it to the pan along with the broth and peanut butter. (Note: Sweet potatoes can be stringy- you may spin in your food processor to smooth them out.)
Bring to a boil, reduce the heat and simmer for 20-30 minutes.
Feel free to use an immersion blender to bring the soup to the consistency that you like.