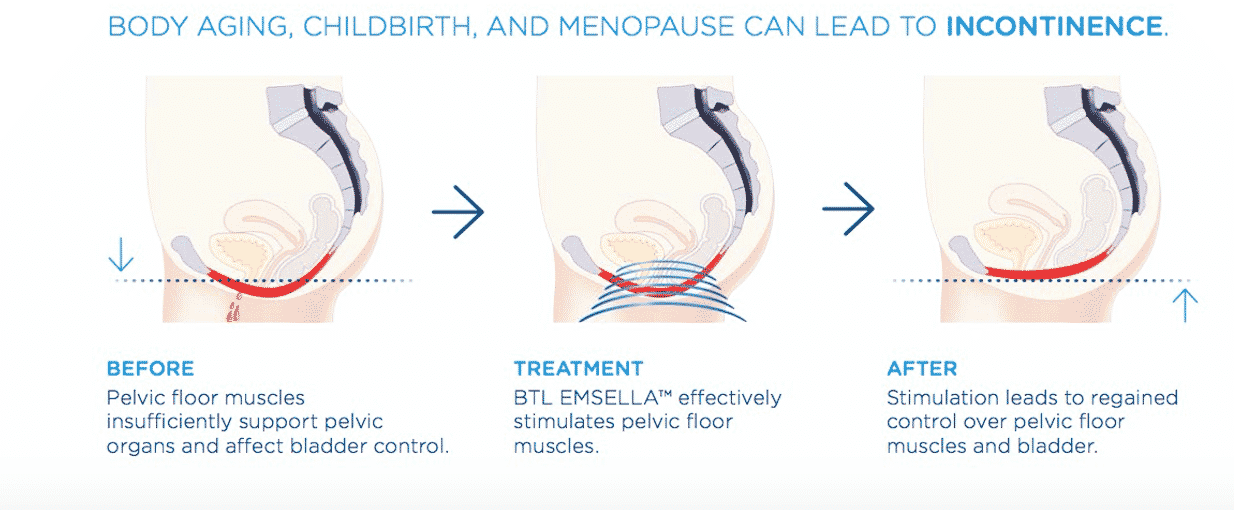 My first job as a physician assistant was at a community health center where I conducted many adult exams. I had several young mothers talk to me about their stress or urge incontinence. I remember thinking, "that will never happen to me". I thought my pelvic floor muscles were pretty tough. I regularly did yoga and Kegel exercises so I assumed I would not be plagued with leaking urine.
After my 2nd child, I joined a fitness class similar to Cross Fit in an attempt to get my pre-baby shape back. I loved the routine, but every time I had to jump rope, sprint, or jump on a barrel, I would leak a little or sometimes a lot of urine. I was in the company of fellow women who suffered similar symptoms, but I was embarrassed to the point that I stopped the exercise class. I found myself feeling like I needed to empty my bladder right before I knew I'd be doing anything strenuous; playing soccer with my boys, running up the stairs, lifting heavy objects. I just accepted it as part of my daily routine.
Last week I was waiting for my Daily Method class to start and out of habit headed for the restroom where I was met by a long line of women, no doubt also wanting to avoid any incontinence. While standing in line, I realized that now that I completed my Emsella treatments, maybe I didn't need to be in this line anymore! Sure enough, I made it through class without any incontinence! Now I notice all the things that I would avoid or alter in my day-to-day life to avoid stress incontinence.
If you would like to know more about incontinence, please read Dr. Couri's recent article where she discussed types of incontinence and Emsella; the latest FDA-cleared treatment.  Emsella is a chair that you sit on for 28 minutes and it strengthens your pelvic floor. In those 28 minutes the chair delivers over 11,000 Kegel exercises through non-invasive electromagnetic stimulation.  The Emsellais indicated for any woman who is looking for a solution to their urinary incontinence.  If you have a pacemaker, heart condition, any metal in your body, are pregnant or have hip replacements, you may not be a candidate for this treatment.
I am so thankful for our Emsella treatments! I can now do activities without thinking about where the restroom is and I can exercise with confidence!  If you would like more information on the Emsella offered exclusively at the Couri Center, I encourage you to go to our website for a listing of FREE educational classes or make an appointment with one of our providers.
Be Well,
Renee Alwan Percell, MMS PA-C