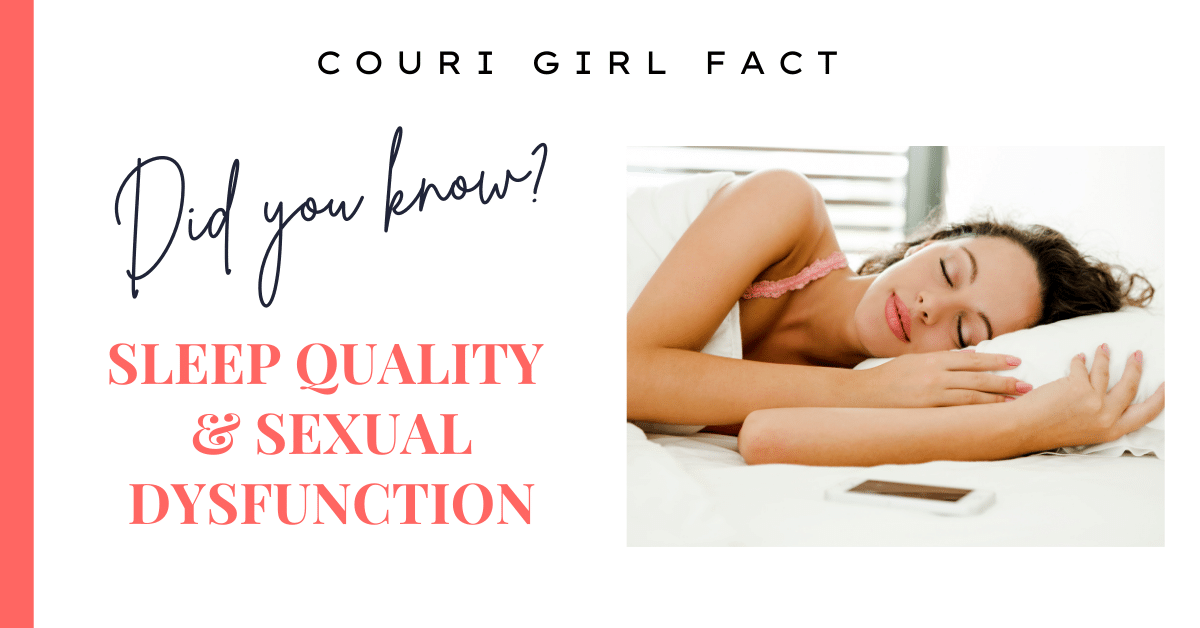 Couri Girl Fact — Sleep Quality and Sexual Dysfunction
It is well known that poor sleep quality can have a negative effect on our health in many ways, and a recent study of 3,433 women has linked poor sleep quality to female sexual dysfunction. Researchers found that 75% of women in this study had poor sleep quality, and 54% met criteria for female sexual dysfunction. Poor sleep quality rather than sleep quantity was linked to greater odds of female sexual dysfunction.  
Disorders of sleep quantity and quality are common among women of all ages and are more commonly seen among menopausal aged women. Nearly 50% of women in the menopausal transition report sleep dysfunction, and up to 43% of menopausal women report some degree of sexual dysfunction. Of importance, sexual health is an important part of our identity as an adult. It can directly impact our self-esteem and happiness. 84% of menopausal women say that maintaining an active sex life is still very important.  
Sexual dysfunction may also be linked to several other factors as well such as but not limited to hormone imbalance typically seen in menopause, anxiety, depression, chronic stress, relationship issues, medication side effects, chronic pain, and pain with intercourse. Treatment for sexual dysfunction starts with identifying the root causes(s) and targeting the therapy accordingly. Open communication between you and your partner as well as with your healthcare provider is key to being able to address the issues at hand and improve the quality of your sexual health.  
Since this recent data confirms a link between poor sleep quality and sexual dysfunction, if you struggle with getting good quality sleep and you suffer from sexual dysfunction, the two may be linked, and we are here to help. Let our team of women's healthcare professionals assist you in improving your quality of life. You deserve to feel your best at any age!
To Your Health,
Dr. Couri
Menopause: June 2021- Volume 28 – Issue 6 – p.619-625