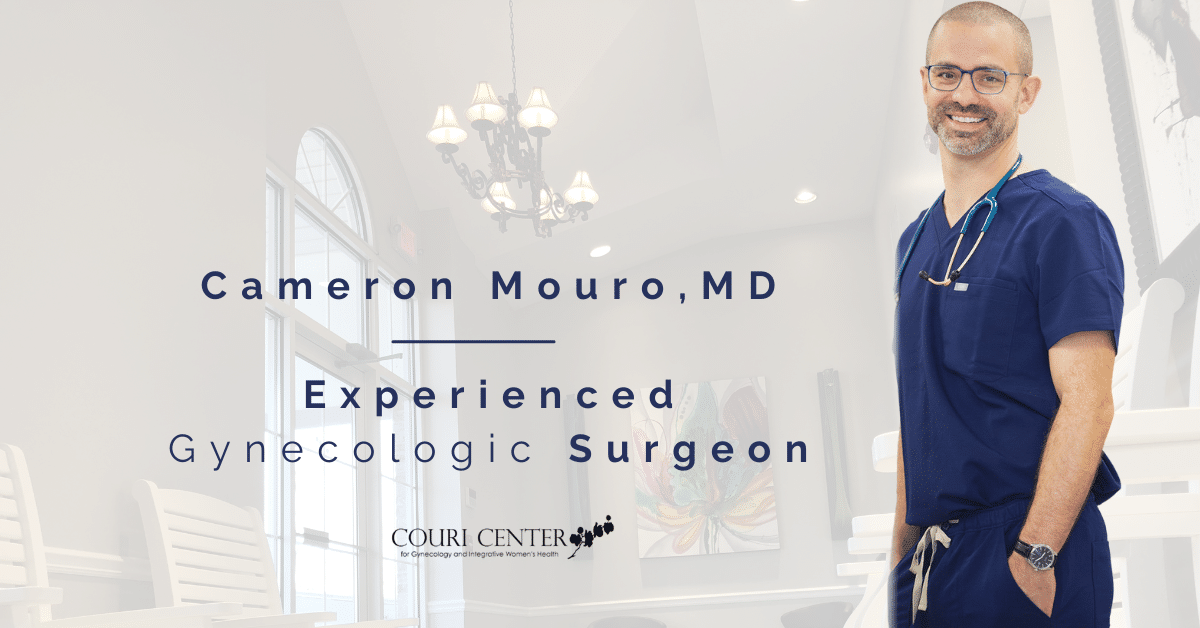 Dr. Cameron Mouro, MD, FACOG
The Couri Center for Gynecology and Integrative Women's Health is proud to have Dr. Cameron Mouro serving gynecology patients in Central Illinois.  He is now accepting new patients.  Dr. Mouro has more than thirteen years experience in gynecology.  He is board certified by the American Board of Obstetrics and Gynecology and is a fellow of the American College of Obstetricians.
IHA Patient Experience Award recipient for 2016, 2017, 2018, and 2019
Reputation for performing highly complex minimally invasive surgeries
Surgical Philosophy
Despite medical advances that provide alternatives to surgery, surgical treatment for several gynecologic conditions, including heavy menstruation, uterine fibroids, ovarian cysts, and endometriosis, remains the best and most definitive treatment for many women. When surgery is necessary, it should be done in the least invasive method possible but with maximum benefit for the patient. Such a goal is best accomplished by a gynecologic surgeon with expertise in minimally invasive procedures and experience with challenging cases. In discussing treatment options with patients, I want them to be well informed of all the options, surgical and non-surgical, and supported in whatever decision they make. If the decision is for surgery, my goal is to help them feel confident in their decision and me as their surgeon.
Surgical Experience
Trained in minimally invasive gynecologic surgery at one of the top Ob-Gyn programs in the country–University of North Carolina
Trained in robotic surgery by one of the forerunners of robotic gynecologic surgery in the US
Co-director of a multi-disciplinary clinic that focused on minimally invasive treatment of uterine fibroids (2007 to 2010)
Assisted with training Ob-Gyn residents and fellows in laparoscopic and robotic surgery
Performed hundreds of robotic and laparoscopic procedures, including hysterectomy, myomectomy, excision of endometriosis, and removal of ovarian cysts
Dr. Mouro is now accepting new gynecology patients.  To schedule, call 692-6838 or schedule online.