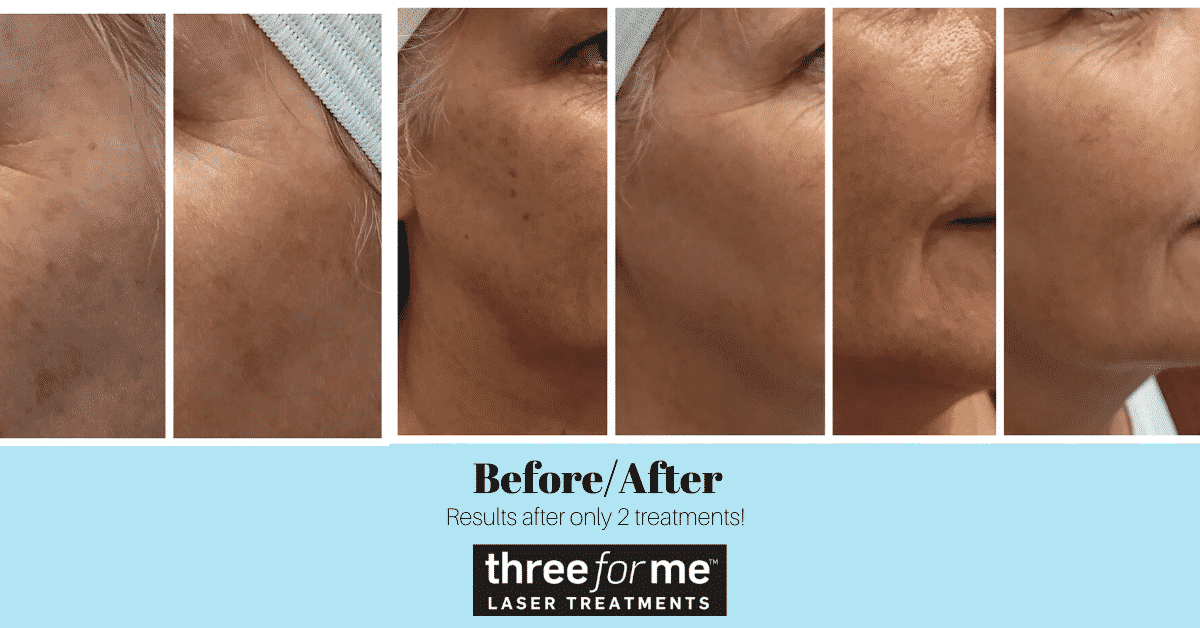 After the age of 30, we lose 1% of our collagen each year
80% of fine lines are caused by the sun
I'm 100% ready to do something about it
If this sounds like you, let's talk the ThreeforMe and what it can do for you. Our most popular treatment targets fine lines, sun spots, and facial vessels/redness. As we age, unfortunately, all these things seem to become more noticeable on the skin. If tighter, brighter, smoother skin is your goal, see me.
All consults are complimentary 30-minute sessions where I will evaluate your skin, discuss your concerns, expectations, and whether or not you are a candidate. If the Three for Me is not the right treatment for you, I'm confident we have something to make you feel your best.
Here's what my patients love about the ThreeforMe:
Minimal downtime.  Most patients are back to their regular routine 24-48 hours later
Improved appearance in texture and fine lines, with the replenishment of collagen and elastin
Diminishment in brown spots and discoloration
Reduction in facial vessels
Take a look at what a few of my patients have said about ThreeforMe:
"I chose the ThreeforMe treatment because I wanted to reduce or eliminate some of the dark spots on my face that have occurred with the normal aging process. After only 2 of the three treatments, the results have far exceeded my expectations! My skin is refreshed and brighter. I am loving my results and would highly recommend it to anyone who wants to get rid of dark age spots and/or sun damage. "   -Donna, Patient 2019
"After the ThreeforMe treatment, my wrinkles have diminished considerably, and my brown spots are gone! My face glows and feels amazing. I am told that I look ten years younger–which is what any woman in her 50's longs to hear! I highly recommend it."     -Becky, Patient 2019
"I had the ThreeForMe laser treatment and am impressed with my results! The tiny facial vessels I had around my nasal area are gone! The brown spots from years of sun damage and aging have diminished, so I don't have to wear much makeup to even out my skin tone-which is a huge perk. Overall, my skin feels plumper and brighter. I am pleased with my results and recommend it to my friends!"  -Cheryl, Patient 2019
To learn if ThreeforMe laser treatment is right for you, schedule your free consultation today.