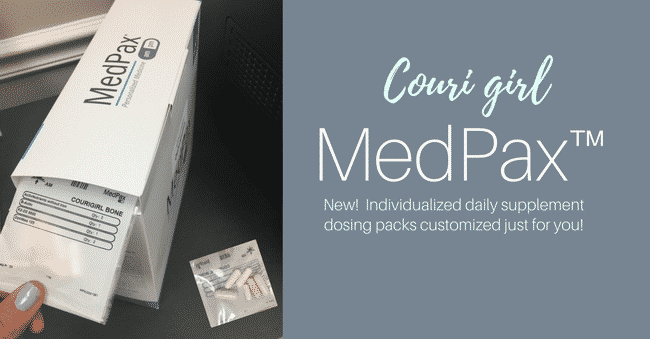 Personalized medicine — it is what we do at the Couri Center. From gynecologic care to surgery, from individualized wellness programs to weight loss, from food sensitivity testing to hormone replacement, our number one goal is to deliver the best care to every patient, each and every time. No one size fits all. Individualized care tailored to each patient is the key to success. This is now even more evident in our supplement recommendations for you. We are proud to announce our recent partnering with Xymogen® MedPax™, a nationally known nutraceutical company that is family owned and has been trusted for over twenty years. Known for its innovative, quality supplements, Xymogen's customer-centered philosophy melds well with ours.
Drawing on my Fellowship education in both Integrative and Functional Medicine and having trained under the world-renowned Dr. Andrew Weil at the University of Arizona Center for Integrative Medicine, I am proud to announce that I have personally created several customized MedPax™ (individualized daily supplement dosing packs) based on the most common symptoms and conditions I encounter day in and day out in my practice. These Couri girl MedPax™ are available for:
Bone Health (Osteopenia and Osteoporosis)
Heart Health (elevated cholesterol)
Menopause Relief
PMS Management
Gut Health
Mood and Anxiety
Stress and Sleep Issues
Hair, Skin and Nails
Inflammation and Joint Pain
Diabetes
Athletic Performance
MedPax™ are able to be further customized to each patient's individual supplement needs to maximize effectiveness and affordability. So, if you have a certain medical issue or constellation of symptoms (other than the ones listed above) that you want resolved, we can customize MedPax™ just for you.
After reviewing your medical history and any pertinent lab work, we will make recommendations for appropriate supplements for you. After we meet with you, we will input our recommendations for your personalized MedPax™ securely online to Xymogen®. You will then receive your supplements shipped directly to your house. What I also love about our new MedPax™:
MedPax™ is convenient. You can easily take your nutritional supplements on the go.
It takes the guesswork out of organizing and remembering if you took your supplements.
MedPax™ clearly tells you when to take your next dose.
You don't have to ever worry about running out. Your MedPax™ can be automatically sent to you every 30 days.
Because both the Couri Center and Xymogen® are committed to reducing the amount of plastics used throughout our businesses, we are thrilled that the use of MedPax™ will eliminate on average the use of 3-5 plastic bottles per individual patient order. With Xymogen's participation in the United Nations Environment Programme Clean Seas initiative, they strive to significantly decrease their environmental footprint.
If you would like to find out if Couri girl MedPax™ are right for you, please call us to set up an appointment to learn more. Or if you are tired of buying several different bottles and brands of supplements to achieve optimal results, switch to MedPax™ and let us make it easier and more effective for you to achieve your goal. Our Earth thanks you — less bottles in our beautiful oceans!
To Your Health (and to the health of our planet),
Dr. Couri