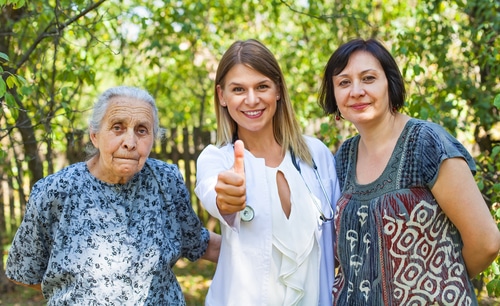 The year 2017 brought us exciting news for menopausal and perimenopausal hormone replacement therapy. We have all heard, over and over, the results of the WHI (Women's Health Initiative) study from the early 2000s, which brought with it many negative statements about menopausal hormone replacement therapy (HRT). Many of those results, found in older women on specific synthetic hormone therapy, were incorrectly extrapolated and applied across the board, to women of ALL ages, which resulted in many women unfairly frightened and inappropriately removed from their hormones!  Since then, many studies have shown the positive impact of HRT on the quality of life and health benefits for perimenopausal and menopausal women. Most recently, in July of 2017, the North American Menopause Society (NAMS) has issued a Position Statement on Hormone Therapy affirming the effectiveness and safety of hormone replacement therapy.
Founded in 1989, The North American Menopause Society (NAMS) is North America's leading nonprofit organization dedicated to promoting the health and quality of life of all women during midlife and beyond through an understanding of menopause and healthy aging. Its multidisciplinary membership of 2,000 leaders in the field – including clinical and basic science experts from medicine, nursing, sociology, psychology, nutrition, anthropology, epidemiology, pharmacy, and education – allows NAMS to be uniquely qualified to provide information that is both accurate and unbiased, not for or against any point of view. The NAMS research and recommendations are highly respected and endorsed by numerous notable organizations.
Hot flashes and night sweats are very common symptoms of menopausal women. But they may also be seen in women in peri-menopause (time prior to menopause). These symptoms may impact the quality of life and will often bring them to our office seeking guidance and relief. Moderate to severe vasomotor symptoms (flashes, night sweats) affect a high percentage of women and may last for years. Using an evidence-based research approach, the NAMS issued guidelines for treatment in 2017.
Systemic hormone therapy, specifically estrogen therapy, is recommended as long as a person has no contraindications. The NAMS recommends hormone therapy for women, most favorably, starting HT prior to the age of 60 and /or within 10 years from the onset of menopause. For a woman with a uterus, it is necessary to also give progesterone to prevent any postmenopausal bleeding or other serious complications when using systemic estrogen hormone therapy. If a woman does not have a uterus, then it is acceptable to give estrogen therapy alone to provide relief, but progesterone can also be given if symptom relief is not obtained from estrogen alone.
At the Couri Center, we believe our harmonié pellet program provides optimum relief for menopausal and peri-menopausal women. We also discuss other bio-identical hormones (hormones most like your own natural hormones) for relief of hormone imbalance and menopausal symptoms. People often ask if there is a limit to the duration a person can use HRT—currently, there is no evidence to support routine discontinuation at a specific age or length of time, based on the most recent research and evidence.
Vaginal dryness, vaginal or vulvar irritation, painful intercourse and sometimes vulvar burning or pain with urination (now commonly referred to as Genitourinary Syndrome of Menopause), are also very prevalent symptoms of peri- and menopausal women. Dr. Jacobs, in our January/February newsletter, wrote an article about this syndrome and some of the current remedies to relieve symptoms. The NAMS Position Statement recommended low dose vaginal estrogen, preferably estradiol, as well as vaginal moisturizers and nonprescription lubricants. At the Couri Center, we also recommend the use of coconut oil daily and prior to intercourse, but first test on your arm (and your partner) prior to using in the genital area. Often, systemic hormone estrogen therapy will help to relieve vaginal dryness and other GSM symptoms. Optimal relief will likely be from the vaginal estrogen, preferably Estrace (estradiol) cream, Vagifem (estradiol) vaginal tablets, or compounded Estriol cream.
The recent Position Statement is a reaffirmation of the effectiveness and safety of hormone replacement therapy when helping people with vasomotor symptoms (hot flashes, night sweats) and for genitourinary symptoms (overactive bladder, bladder leakage, incontinence with laughing or sneezing).
If you are suffering with any of these symptoms, please contact your health care provider at the Couri Center and schedule an appointment for evaluation and to discuss treatment options. Together, let's make you the best you can be and feel for a positive, healthy 2018.
To your health,
Terry Polanin, MSN, APN
Reference: Menopause 2017 Jul: 24:728