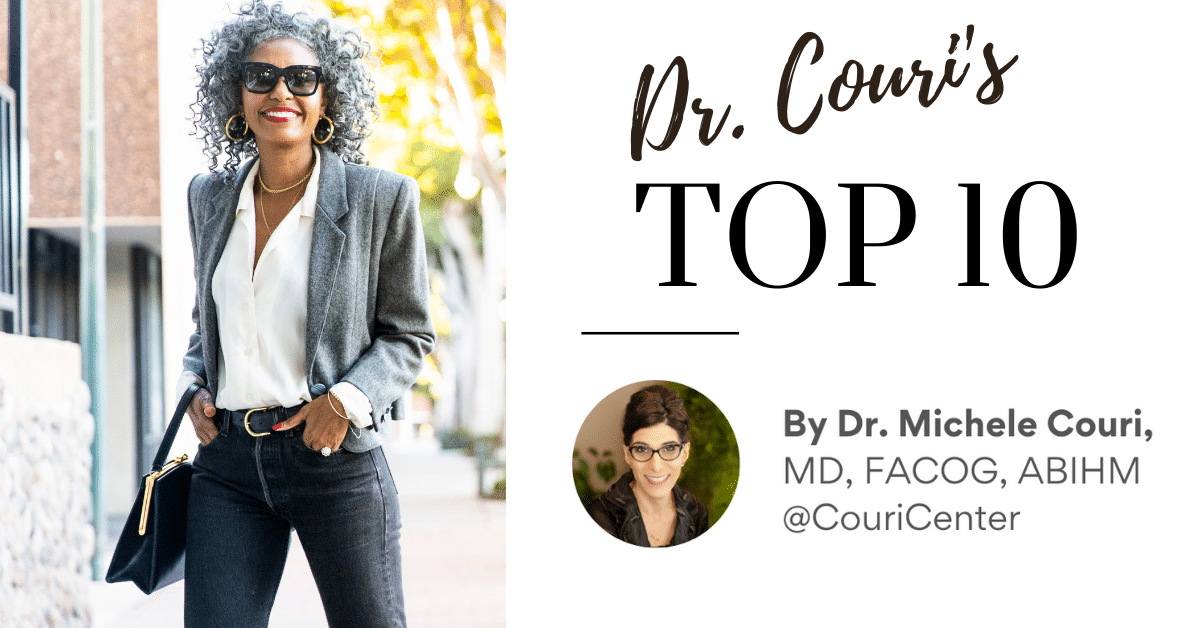 10 Menopausal Facts You May Find Helpful By Dr. Michele Couri, MD, FACOG, ABIHM
The transition to menopause is not only associated with changes in hormones but often is characterized by a shift in energy balance and body composition (weight gain and increased abdominal fat).  

In addition to weight gain, vasomotor symptoms such as hot flashes and night sweats, and sleep disturbance are commonly seen among menopausal patients.

The above-mentioned changes and symptoms increase a woman's risk of cardiovascular disease, the leading cause of death in post-menopausal women.

Providing patients with opportunities to effectively reduce and manage these adverse menopausal effects would empower women with healthy aging strategies.  

Many women are not aware of the bodily changes or symptoms that may arise from menopause and the impact that these changes have on quality of life.

A 2018 study of 1,611 peri- and post-menopausal women found that 65% of women felt unprepared for menopause, and 70% desired help in weight management during their menopause transition. 83% of those wanting help with their weight specifically were looking for dietary and exercise guidance.  

The SWAN study (Study of Women's Health Across the Nation) indicates there are racial and ethnic differences in how women experience menopause. Black women typically have a longer transition to menopause, have more bothersome hot flashes and night sweats, and experience less quality sleep with shorter sleep duration. White women are more likely to experience depressive symptoms due to menopause and a greater reduction in libido.

A 2022 study from the journal Maturitas found that women agree that "a one-size-fits-all approach to navigating menopause did not exist."  

In this same study, when asked about guidance regarding diet and exercise, the women were most interested in a lifestyle program that lasted 3-6 months.

Regarding lifestyle programs designed to help counteract the weight gain and other bothersome symptoms of menopause, creating lasting behavioral change is imperative for long-term results and sustainable success.
We at the Couri Center have known for a long time that a "one-size-fits-all approach" does not work well when treating patients, especially menopausal women. In addition, our TLC lifestyle program has been in existence for over a decade now. TLC (Total Lifestyle by Couri) has helped thousands of patients regain their health and quality of life by empowering them to make sustainable dietary and exercise changes, personalized according to their individual needs and physiologic "blueprint."  
To learn more about our services, call 309-692-6838 or email us to schedule a consultation. We're here to help at every stage in life.
In health, 
Dr. Couri
Sources Used:
C.L. Kracht, et al., "It just seems like people are talking about menopause, but nobody has a solution.": a qualitative exploration of menopause experiences and preferences for weight management among Black women Maturitas 157 (2022) 16-26.

K.I. Marlatt, et al., Racial differences in body composition and cardiometabolic risk during the menopause transition; a prospective, observationoal cohort study, Am. J. Obstet. Gynecol. 222 (2020) 365.

S.R. El Khoudary, et al., The menopause transition and women's health at midlife: a progress report from the Study of Women's Health across the Nation (SWAN). Menopause 26 (2019) 1213-1227.

K.I. Marlatt, et al., A qualitative assessment of health behaviors and experiences during menopause: a cross-sectional, observational study. Maturitas 116 (2018) 36-42.