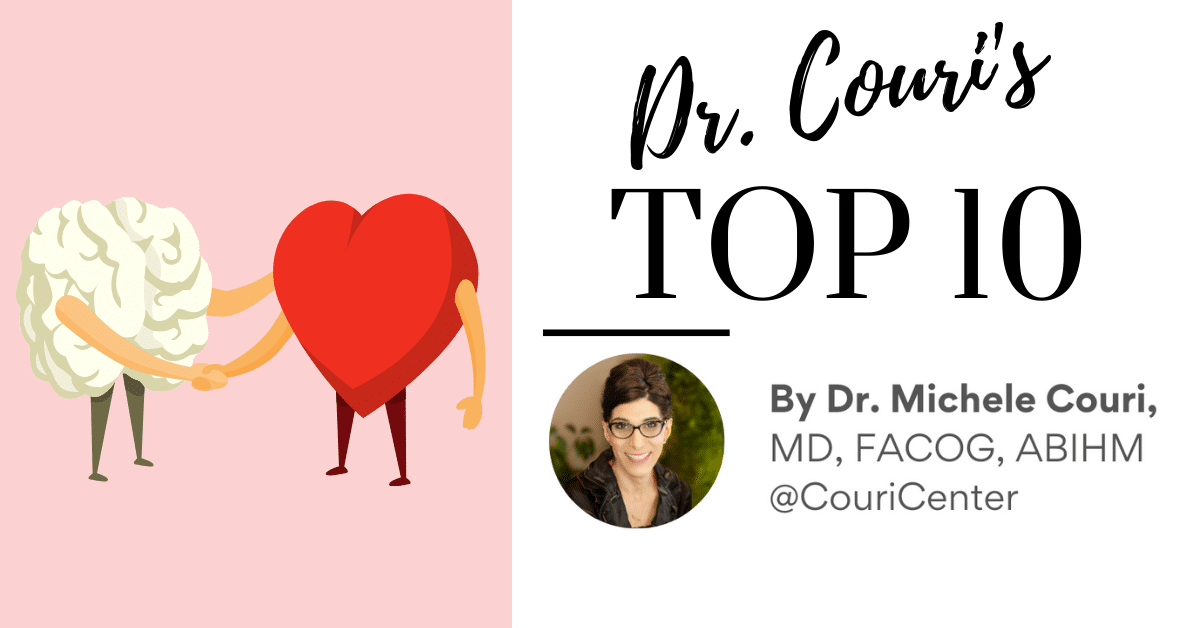 "What is Good for your Heart is Good for your Brain" – 10 Facts You Need to Know By Dr. Michele Couri
There is an undeniable connection between the health of our brain and our heart.  

"The global rate of brain disease is quickly outpacing heart disease." – Mitchell S.V. Elkind, MD. The rate of deaths worldwide from Alzheimer's Disease and other dementias more than doubled in the last ten years compared to the rate of death from heart disease.

Men and women with high blood pressure in midlife and beyond are 5 times more likely to suffer from cognitive impairment and twice as likely to be diagnosed with Alzheimer's Disease or other forms of dementia.  

Patients with coronary heart disease are 40% more likely to be diagnosed with cognitive impairment, cognitive decline, or dementia.

Smoking, lack of physical exercise, poor nutrition, obesity, elevated cholesterol, diabetes, and high blood pressure are all modifiable risk factors for heart disease and cognitive impairment. The good news is that these factors are all in YOUR control.

At a minimum, 33% of all Alzheimer's disease cases could be prevented by optimizing diet and exercise, social engagement, stress reduction, improved sleep, balancing hormones, avoiding smoking and other toxins, reducing cardiovascular disease, and maintaining a normal weight.  

Once a woman reaches the age of 50 or approximately the age of natural menopause, she is at the same risk of heart disease as a man, and in the first year after a heart attack, women are over 50% more likely to die than men are. Heart health is critical for both men AND women.

A study of over 78,000 women showed that those who followed a Mediterranean diet had a 24% reduction in heart disease and a 26% reduced risk of stroke compared to women who ate a typical Western-style diet rich in processed foods, unhealthy fats, and high levels of sugar.  

76% of men and women do not meet the 2018 Physical Activity Guidelines for Americans for both aerobic exercise and muscle strengthening. A study of almost 200 women who were followed for 40 years showed that a higher level of cardiovascular exercise at midlife reduced the risk of future dementia – 30% of those women with the lowest level of cardiovascular exercise developed dementia later in life.  

Remember how profoundly true this Tibetan proverb is and how it pertains to both our heart and brain health: "Eat half, walk double, laugh triple, and love without measure." 
Want to learn more about how you can improve your heart health, brain health, nutrition, or overall wellness? We're here to help at every stage of life. To schedule, call 309 692-6838 or request an appointment online. New patients are always welcome!
To your health,
Dr. Couri
Sources Used:
Brooks, M.  AHA annual stats update highlights heart-brain connection.  MDedge Cardiology  February 4, 2022
Mosconi, L.  The XX Brain: The Groundbreaking Science Empowering Women to Maximize Cognitive Health and Prevent Alzheimer's Disease; 2020, Penguin Random House Books.
Oh, K.  Dietary fat intake and risk of coronary heart disease in women: 20 years of follow-up of the nurses' health study.  Am J Epidemiology. 2005. Apr 1;161(7):672-9.
Horder, H.  Midlife cardiovascular fitness and dementia: A 44-year longitudinal population study in women.  Neurology.  2018;90:e1298-35.