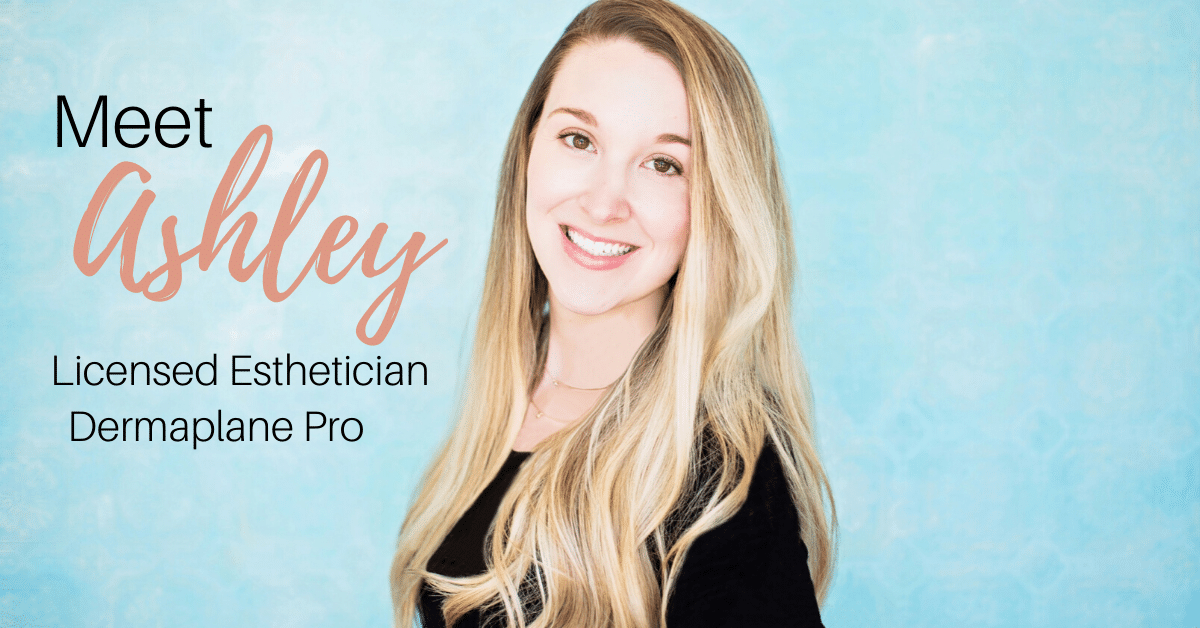 We are so excited to welcome Ashley Gardewine to the Couri Center's Aesthetic Studio.  Ashley is a licensed esthetician & certified laser technician. She has over 12 years of experience in the industry, with 7 of those owning her own business. Ashley specializes in corrective anti-aging treatments for sun damage, fine lines, and acne. Whether you're looking for laser hair removal, dermaplaning, or are simply searching for a solution to wearing less makeup, she's your go-to. Her passion is to find customized solutions to help you love your skin. We hope yo enjoy getting to know Ashley better in this interview.
What is one word you would use to describe yourself? 
I could think of several words to describe me, but if I had to pick just one, it would be: driven.  In this industry, you cannot be lazy.
So, you're both an Esthetician and Cosmetologist. Tell us what inspired you.
Several things inspired me to become both an Esthetician and Cosmetologist. Both my grandfather (Dad's side) and grandmother (Mom's side) owned hair salons. My grandpa, Fran, was well known in the Effingham, IL area for giving the best perms and roller sets in town! I guess you could say it's in my blood. As far as skincare goes, I always was obsessed with wanting to take good care of my skin while growing up. I also had a passion for wanting to help people with their skincare goals. While growing up, we are taught so many things but little about how to properly take care of our skin (our largest organ). I wanted to be that girl who teaches them all the tips and tricks.
I've heard you LOVE taking care of your patient's skin! How much do you love skin/skincare? 
I love skin/skincare so much that my friends and family are probably sick of me talking about it.
What are you most proud of?
I am most proud of my children. They are tiny humans still, but they are good kids.
How do you recharge?   
I am a mom; do moms ever get a chance to recharge? Lol. If I get a chance to myself, I enjoy reading or taking an uninterrupted bath.
If you were to tell one person "Thank You" for helping me become the person I am today, who would it be, and what did they do? 
I would thank my Mom. She was a single mom and struggled a lot to raise my sister and me. We did not have a lot growing up, but she made sure we always had what we needed.
How do you stay on top of skincare trends?
I follow several well-known Estheticians in the industry whom I have learned a lot from over the years. I also am a firm believer in continuing education. One thing no one can ever take away from you is your education.  The more you know, the further you will go in this industry.
What does happiness look like for you? 
This is a tricky question. We are always chasing something to be happy, whether it be a new car, a new promotion, a significant other. This leads to the belief that, "When (blank) happens, I'll finally be happy." I have learned that major events make me happy at first, although it doesn't last. To answer your question, I guess happy for me would be to slow down so I can appreciate life's little pleasures.
What characteristic do you most admire in others? 
Honesty. We are all so afraid of hurting each other's feelings. I always tell my clients if you are unhappy with something, please tell me so I can fix it.  Do not worry about hurting my feelings because what would hurt my feelings more, is if you went somewhere else before giving me the chance to make it right. I think they deeply appreciated that, and it opened this circle of trust.
What are you most passionate about?
Skincare. DUH. 😊
What would a "perfect" day look like for you? 
A perfect day for me would be a day where my entire family could all be together. We are all scattered all over the US, with one being in Canada.
What's the most important lesson you've learned in the last year?
Do not plan out your entire life. God's plans are bigger than our own.  
If you could volunteer your time, what would you do? 
I would volunteer mine and my family's time at a homeless shelter. I believe there is a lot to learn from the less fortunate.
What is your favorite season? Why?
My favorite season is the fall. I love sweater weather and all things pumpkin spice.
What type of music do you enjoy? 
I don't have one specific favorite genre of music. I listen to what moves me at the time.
What do you like to do for exercise?  
For exercise, I like to sit on the couch and watch my favorite reality tv show, Real Housewives of Beverly Hills. Oh wait, that's not exercising. When I do exercise, I enjoy lifting weights and walking. 
What motivates you?
Results in this industry really drive me. I thrive on creating a strategy to help my clients achieve the results/goals they are looking for.
What are your MUST HAVE product(s) for our skin? 
The biggest must-have products you should be carrying in your cabinet are SPF, Vitamin C, and Retinol.
Biggest skincare myth—what should we know?
Myth: Age or liver spots are a part of getting older. Reality: These spots are actually sun damage and have little to do with getting older or your liver. This is why I am always preaching about SUNSCREEN!  SPF IS YOUR BFF!
We have so many incredible female patients here at the Couri Center. What would you most like to share with them? 
We all have imperfections when it comes to our skin, so don't beat yourself up. I am here to help you love your skin!
Schedule your complimentary skin care consultation with Ashley now.